PEOPLE
ACADEMIC STAFF
Mr. Christopher ELLIS
Professional Consultant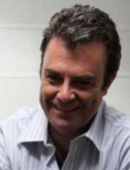 Tel
(852) 3943 1808
Fax
(852) 2994 2505
Email
ca.ellis@cuhk.edu.hk
Office

Room 529,
Faculty of Law,
5/F, Lee Shau Kee Building,
The Chinese University of Hong Kong
Sha Tin, NT, Hong Kong SAR

Chris Ellis is a professional consultant who practised for many years at the Criminal Bar as both prosecutor and defence counsel. Before coming to Hong Kong in 2005, Chris also taught postgraduate law in England for seven years. He also taught advocacy, negotiation and conference skills on the English equivalent of the PCLL. Chris was a personal student of the late Professor Sir John Smith QC (Smith and Hogan) and studied advanced criminal law under his tutelage.
Chris has substantial experience in teaching criminal law, criminal procedure and criminal litigation in Hong Kong. He has also previously taught at HKU on the LLB degree and on the HKU BCJ (Bachelor of Criminal Justice) degree. Chris has also taught the criminal law of Hong Kong to police officers, Correctional Services staff and immigration employees.
Chris is currently teaching on the PCLL and JD programmes.
Appointments
Overseas Lawyers' Qualification Examination Panel member Head II (Criminal Procedure)
Contributing Editor for Hong Kong Archbold (Sweet & Maxwell)
External examiner in evidence and procedure for LLB at Manchester Metropolitan University
Education and Professional Qualifications
LLB (Hons)
LLM (Hons) (Queens' College, University of Cambridge)
Barrister and member of Grays Inn since 1991
Criminal Law of HK and other jurisdictions
Criminal Evidence and Procedure
History and development of the Criminal Law