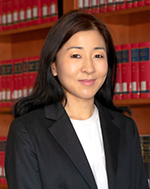 Room 611
Faculty of Law
6/F, Lee Shau Kee Building
The Chinese University of Hong Kong
Sha Tin, NT, Hong Kong SAR
Dr. Agnes Chong is an Assistant Professor at The Chinese University of Hong Kong, Faculty of Law. Dr. Chong's research interests include international law, watercourses law, environmental law and human rights law.
Dr. Chong obtained her PhD in International Law (pass with no revisions) from the University of Hong Kong, Faculty of Law. Her doctoral thesis, "The Non-Hierarchical Norms of No-Harm and Equitable Utilisation in International Watercourses Law," was nominated for the Li Ka-Shing Prize 2018, a university-wide recognition for research excellence. After completing her doctoral studies, Dr. Chong was a visiting scholar at the University of Cambridge.
Dr. Chong has an LLM in Human Rights Law from the University of Hong Kong, an MSc in Development Studies from the London School of Economics and BA in Chinese and Management Studies from the University of Leeds. She also spent two years studying in China at Tianjin Normal University and the Johns Hopkins University–Nanjing University, Center for Chinese and American Studies.
Dr. Chong is admitted as a solicitor of the High Court of Hong Kong. She has broad professional experience in law and policy in Asia, having worked in leading international law firms Freshfields Bruckhaus Deringer, O'Melveny & Myers and Cleary Gottlieb Steen and Hamilton in Hong Kong, and in international organisations working with the United Nations and the World Bank's International Finance Corporation in Thailand and China.
Dr. Chong is an editorial board member of the Asia-Pacific Journal on Human Rights and the Law, and Chair of the CUHK Law, Centre for Comparative and Transnational Law, Environmental, Energy and Climate Law Cluster.
Monographs
Journal Articles
"Silala: The Equitable Utilization Right and Issues of Water Commodification and Artificial Flows", Wyoming Law Review, 2023, Volume 23, Number 2, 129-150.
"The Positive Obligation to Prevent Climate Harm Under the Law of Responsibility", Georgetown Environmental Law Review, 2022, Volume 34, Issue 2, 275-302.
"State Responsibility for Climate Change Damage and The Evolving Human Rights Regime", German Yearbook of International Law, 2020, Volume 63, 481-509.
"UN Security Council Resolution of International Water Disputes", Georgetown Journal of International Law, 2019, Volume 50, 363-423. (with co-author)
"Smoke and Mirrors: Reconciling the Right to Health and the Right to Tobacco in Times of Armed Conflict", Houston Journal of International Law, Summer 2017, Volume 39, Number 3, 489-555. (Lead article; with co-author)
"China and the Management of its International Rivers", Boston College International and Comparative Review, 2016, Volume 39, Number 2, 227-266. (Lead article; with co-author)
Book Chapters
"Failing Rule of Law: The Case of the South China Sea" in The Environmental Rule of Law for the Oceans, Designing Legal Solutions edited by Froukje Maria Platjouw and Alla Pozdnakova, Cambridge University Press, 2023.
"Membership to the United Nations" in Leading Judicial Decisions in the Law of International Organizations edited by Cedric Ryngaert, Ige F Dekker, Ramses A. Wessel and Jan Wouters, Oxford University Press, 2016, 138-155. (with co-author)
"An Anthology of Law and Mechanisms on the Right to Water and Sanitation in the Asia-Pacific Region" in The Human Rights to Water and Sanitation: An Annotated Selection of Regional Law and Mechanisms, WaterLex (UN-Water Partner), December 2017, 161-183.
Book Reviews
"Analysis of the Right to Water Needs Further Depth", Asia-Pacific Journal on Human Rights and the Law, 2017, Volume 18, 109-116.
Teaching Materials
"Royal Dutch Shell and Beyond: Strategizing the Future of ESG Compliance", University of Hong Kong, Faculty of Business and Economics, Asia Case Research Centre, 2021 (in English and Spanish).