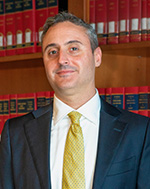 Room 624
Faculty of Law
6/F, Lee Shau Kee Building
The Chinese University of Hong Kong
Sha Tin, NT, Hong Kong SAR
Michael Schreiber joined the law faculty at the Chinese University of Hong Kong in 2022. Prior to that, he was a New York City Appellate Administrative Law Judge. He also previously practised defense litigation and immigration law in the United States, as well as international corporate law in Taiwan. He continues to work on an advisory pro bono basis with the CBST Ark Immigration Clinic in New York.
Michael's main subjects are administrative law, advocacy, research, drafting, negotiation and conference skills.
EDUCATIONAL AND PROFESSIONAL QUALIFICATIONS
BA (Hons), Political Science, Binghamton University
JD, The George Washington School of Law
State Bar of New York (2004)
Southern District of New York (2005)
RESEARCH INTERESTS
Administrative Law
Immigration Law
Gender, Diversity and the Law
PUBLICATIONS
Co-author, Anti-cartel Enforcement Worldwide, Taiwan Chapter, Cambridge University Press General (2009)
Co-author, Merger Control Worldwide, Second Edition, Taiwan Chapter, Cambridge University Press General (2010)