PEOPLE
ACADEMIC STAFF
Prof. Angela DALY
Assistant Professor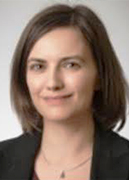 Tel
(852) 3943 1541
Fax
(852) 2994 2505
Email
angela.daly@cuhk.edu.hk
Office

Room 536,
Faculty of Law,
5/F, Lee Shau Kee Building,
The Chinese University of Hong Kong
Sha Tin, NT, Hong Kong SAR
Dr Angela Daly is a comparative socio-legal scholar of technology from a critical political economy perspective, and is the author of Socio-Legal Aspects of the 3D Printing Revolution (Palgrave 2016) and Private Power, Online Information Flows and EU Law: Mind the Gap (Hart 2016). Dr Daly has expertise in competition law and regulation, intellectual property, privacy and data protection, human rights, legal theory, socio-legal studies, and the political economy of law. She has transnational and comparative legal expertise across the international, British, French, European Union, US, Chinese and Australian legal systems.
Dr Daly holds a PhD in Law from the European University Institute, which was joint winner of the 2013-2015 Fondazione Calamandrei Frosini prize for best thesis in legal informatics and information law. Prior to CUHK, she was Vice Chancellor's Senior Research Fellow and Senior Lecturer in Queensland University of Technology Faculty of Law and in 2017 she was awarded a QUT Vice Chancellor's Performance Award in recognition of her research achievements. She previously held the position of Postdoctoral Research Fellow in Media and Communications Law at the Swinburne University of Technology Institute for Social Research Digital Society research stream. Dr Daly holds an MA in Jurisprudence from Balliol College, University of Oxford, an LLM in French and European Law from the Universite de Paris 1 Pantheon-Sorbonne and an LLM (Research) in Comparative, European and International Law from the European University Institute. She has been a visiting researcher at Shanghai Jiao Tong University KoGuan School of Law, Stanford Law School, Universita degli Studi di Milano Dipartimento di Scienze Giuridiche Cesare Beccaria (Sezione di Filosofia e Sociologia del diritto), Instituto Technologico Autonomo de Mexico Departamento Academico de Computacion and Benemérita Universidad Autónoma de Puebla Instituto de Ciencias Sociales y Humanidades.
Dr Daly is currently the leading Chief Investigator on a UK Intellectual Property Office-funded project examining 3D Printing and Intellectual Property Futures in Developed and Emerging Economies (2016-2018). In late 2018, Good Data, an open access interdisciplinary collection she is co-editing with Dr Kate Devitt (QUT) and Dr Monique Mann (QUT), will be published by the Amsterdam University of Applied Sciences Institute of Network Cultures Press.
Dr Daly has previously worked for OFCOM (UK) and Electronic Frontier Foundation (US). She is currently a member of NGO Digital Rights Watch Australia's Board of Directors (and founding member of the organisation), and Chair of the Australian Privacy Foundation International Committee.