PEOPLE
ACADEMIC STAFF
Mr. Mitchell STOCKS
Professional Consultant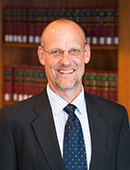 Tel
(852) 3943 9979
Fax
(852) 2994 2505
Email
mitchell.stocks@cuhk.edu.hk
Office

Room 534,
Faculty of Law,
5/F, Lee Shau Kee Building,
The Chinese University of Hong Kong
Sha Tin, NT, Hong Kong SAR
Mitchell Stocks has practiced corporate and commercial law in Asia for over 20 years.
Mr. Stocks was an equity partner at Latham & Watkins where he served as managing partner of the Hong Kong office and head of its Finance Department.
Mr. Stocks was also General Counsel, Asia Pacific, for NetApp, a Silicon Valley-based Fortune 1000 information technology company.
Most recently, he directed the Post-graduate Certificate in Laws (PCLL) Program at City University of Hong Kong where he taught Commercial Writing and Drafting, Corporate and Commercial Practice and Professional Conduct and Practice.
Mr. Stocks holds a Master of Fine Arts in Creative Writing from City University of Hong Kong and has published stories in several literary journals. He received his Juris Doctor from Northwestern University where he graduated cum laude and was elected to serve as Chief Articles Editor of the Law Review.
His legal interests include law and literature, entrepreneurship, infrastructure development and finance, water law, complex commercial documentation and inspiring the next generation of lawyers through professional skills training.