PEOPLE
ACADEMIC STAFF
Prof. Julien CHAISSE 夏竹立教授
Professor 教授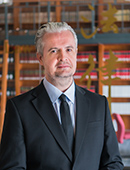 Tel
(852) 3943 1900
Fax
(852) 2994 2505
Email
julien.chaisse@cuhk.edu.hk
Office

Room 523,
Faculty of Law,
5/F, Lee Shau Kee Building,
The Chinese University of Hong Kong
Sha Tin, NT, Hong Kong SAR

Julien Chaisse is Professor of Law at The Chinese University of Hong Kong (CUHK). He is an award-winning specialist in international economic law with particular expertise in the regulation and economics of foreign investment. His research also covers other relevant fields, such as WTO law, international taxation and the law of natural resources. Before joining the CUHK Law Faculty in 2009, Prof. Chaisse served in the Ministry of Foreign Affairs of France, and started his academic career in Europe. Since then, Prof. Chaisse is frequently invited as a guest lecturer to many academies and universities around the world, including the Academy of International Investment and Trade Law, Columbia University, Brown University and Boston University (U.S.), Passau University (Germany) and Melbourne University (Australia) where he is a Senior Fellow to the Law School.
Prof. Chaisse has authored a broad body of well-regarded and widely-cited articles on topics ranging from the rise of sovereign wealth funds, the regulation of foreign investment, and decision-making challenges facing the WTO, which have been published in the top refereed journals of international law. In recognition of his outstanding scholarly achievements, Prof. Chaisse received the CUHK Research Excellence Award in 2012, and was appointed Director of the Center for Financial Regulation and Economic Development of CUHK Law since 2013. Prof. Chaisse organized several academic events at CUHK and he launched the "Asia FDI Forum" series, a high-profile annual conference focusing on the law and economics of FDI in Asia. The Asia FDI Forum I focused on sustainable investment while the Asia FDI Forum II addressed China's international investment policy. The upcoming Asia FDI Forum III (May 11-12, 2017) explores the evolving China-EU investment relationships.
In addition to scholarly work, Prof. Chaisse has wide experience as a practitioner, and is engaged as expert, counsel and arbitrator in transnational dispute settlement. Apart from his frequently being interviewed by local and international media on current events and legal issues,  Prof. Chaisse is also regularly invited to provide legal advice and training courses on cutting-edge issues of international economic law for international organizations, governments, multinational law firms and private investors, including Ernst & Young, Deloitte U.S., Maxwell Stamp, the United Nations ESCAP and ITC, World Trade Organization, ASEAN Secretariat, European Commission, Asian Development Bank, numbers of European countries and ASEAN member states. Prof. Chaisse was appointed a member of the World Economic Forum's Global Agenda Council (Trade and FDI) for the term 2016-2018 which is the world's foremost interdisciplinary knowledge network dedicated to promoting innovative thinking on critical global issues, regions and industries, and incubating projects, campaigns and events for the public good.  Prof. Chaisse is also a member of the ICANN Working Group that is currently conducting a review of all rights protection mechanisms in all Generic Top-Level Domains (gTLDs).
EDUCATION AND PROFESSIONAL QUALIFICATIONS
Ph.D. in Law, University of Aix-Marseille, France (1stclass)
LL.M. European Law, University of Rennes, France (1stclass)
M. Phil. International Law, University of Tübingen, Germany (1stclass)
LL.B. University of Aix-Marseille, France (1stclass)
Member of the Chartered Institute of Arbitrators (CIArb)
Awards
CUHK Vice-Chancellor's Exemplary Teaching Award 2015
CUHK Research Excellence Award 2012
University of Aix-Marseille European Award 2009 for the Best Law PhD Thesis
Appointments
Books
The Regulation of Global Water Services Market (London: Cambridge University Press, 2017) 446 p.
Full text: Cambridge University Press (Purchase)
International Economic law and Governance-- Essays in the Honour of Mitsuo Matsushita (London: Oxford University Press, 2016) 624 p.
Full text: Oxford University Press (Purchase)
Charting the Water Regulatory-- Future Issues, Challenges and Directions (London: Edward Elgar, New Horizons in Environmental and Energy Law series, 2016) 448 p.
Full text: Edward Elgar (Purchase)
The ASEAN Comprehensive Investment Agreement-- The Regionalization of Laws and Policy on Foreign Investment (London: Edward Elgar, International Investment Law Series edited by Andrea K. Bjorklund and August Reinisch, 2016) 265 p.
Full text: Edward Elgar (Purchase)
Legal Issues of Economic Globalization-- A Commentary on the Law and Practice (Hong Kong: Wolters Kluwer, 2015) 784 p.
China and Hong Kong-- An International Tax Perspective (Hong Kong: Wolters Kluwer, 2014) 337 p.
Expansion of Trade and Foreign Direct Investment in Asia-- Strategic and Policy Challenges (London: Routledge, 2011) 308 p.
Competitiveness of ASEAN Economies-- Corporate and Regulatory Drivers (Northampton: Edward Elgar, Peter J. Buckley's series on New Horizons in International Business, 2010) 336 p.
Essays on the Future of the WTO, Volume I-- Policies and Legal Issues (Geneva: Editions Inter-universitaires Suisses (Edis), 2008) 384 p.
Essays on the Future of the WTO, Volume II-- WTO Judicial System (Geneva: Editions Inter-universitaires Suisses (Edis), 2008) 480p.
Ensuring the Conformity of Domestic with the Law of the World Trade Organisation-– India as a case study (New Delhi: Rajdhani Press/CSH, 2005) 188p.
Journal Articles
Book Chapters
Recent Policy Notes
Research profile and current activities
Transnational law
Cyberlaw (domain names, trademarks, ICANN)
International law of foreign investment
Law of the World Trade Organisation
International Arbitration
Research Projects
'Towards a China-EU Bilateral Investment Treaty-- Issues, Challenges and Directions', General Research Fund (GRF), Hong Kong SAR Research Grants Council, 2016-2018, US$150,000
'Consumer Policy in China-- Protecting the Citizens, Strengthening the Domestic Market and Building an Ecological Civilization' as Principal Investigator (Principal Investigator Prof. Fernando Dias Simões), Macau SAR Research Grants Council, 2016-2018, US$300,000
'Managing the Globalization of Water Services in a World Affected by Climate Change: Regulatory and Economic Challenges' as Principal Investigator, supported by the World University Network (WUN), 2014-2017, US$70,000
'The Changing Paradigm of Economic Diplomacy in Asia', Taiwan Collaboration Fund, CUHK Office of Academic Links (OAL), 2016-2017, US$5,000
'Do Bilateral Investment Treaties Increase Foreign Direct Investment Flows? Revisiting the role of legal parameters in economic empirical research' as co-investigator with Prof. Christian Bellak, supported by the Vienna University of Business and Economics (WU), Arbeitskammer Vienna (Austria), and the CUHK Cheng Foundation Fund (No.I12076), 2011-2017, US$200,000
'The Practice of Treaty-Shopping in international law' as Principal Investigator, AECSRP IEEM Academic Research Project Grant 2014-2015, US$9,000
'Hong Kong Foreign Direct Investment Profile', supported by CUHK New Asia College the Chiap Hua Cheng's Foundation Fund in cooperation with Columbia University, Columbia Center on Sustainable Investment [completed 2013]
'United States of America and China Trade Litigation in the WTO' (我国入世以来利用WTO争端解决机制解决中美贸易争端的实践与经验研究) Chinese Ministry of Education (No. 12JJD790022) with Prof. LUAN Xinjie [completed 2012]
'Regulatory Strategies of Sovereign Wealth Fund in making', supported by the Earmarked Research Grant (ERG), CUHK [completed 2011]
Arbitration: Disputes Recently Decided by Prof. Chaisse
Case 'Galaxy Entertainment Ltd. v. Martin Mir', Decision HK-1600899, October 26, 2016
Case 'ASSAB Pacific Pte. Ltd. v. San Ming', Decision HK-1600872, July 6, 2016
Case 'V Intellect Company Limited v. Marguerite Patrie', Decision HK-1500821, January 25, 2016
Case 'Promgirl LLC v. Ma Gang', HK-1500800, December 13, 2015
Case 'Envato Pty Ltd v. James Smith', HK-1500752, June 17, 2015
Case 'Rimowa GmbH v. Pisa Yu', HK-1500728, May 25, 2015