PEOPLE
ACADEMIC STAFF
Prof. Stephen THOMSON
Assistant Professor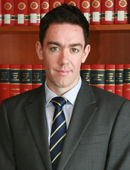 Tel
(852) 3943 1541
Fax
(852) 2994 2505
Email
stephen.thomson@cuhk.edu.hk
Office

Room 536,
Faculty of Law,
5/F, Lee Shau Kee Building,
The Chinese University of Hong Kong
Sha Tin, NT, Hong Kong SAR

Dr. Stephen Thomson is an Assistant Professor in the Faculty of Law and Legal Adviser to the Ombudsman of Hong Kong. He is Deputy Director of the Research Postgraduate Programme, a member of the Board of the Faculty of Law, and an examiner on the Overseas Lawyers Qualification Examination. He is also a member of the Constitutional Affairs and Human Rights Committee of the Law Society of Hong Kong. He has been selected as a Herbert Smith Freehills Visitor at the Faculty of Law, University of Cambridge, in 2018.
Dr. Thomson's main research interests are in administrative law, with work appearing in leading law journals including Public Law, Civil Justice Quarterly, Melbourne University Law Review and the University of Pennsylvania Journal of International Law. He is currently writing a text on administrative law under contract with Cambridge University Press. Dr. Thomson is also the author of the first and only text to systematically examine the nobile officium - the 'extraordinary equitable jurisdiction' of the Supreme Courts of Scotland. His book carries a foreword by Lord Hope of Craighead, first Deputy President of the UK Supreme Court, and has been received to acclaim by the practitioner community. The book has been positively cited by the Inner House of the Court of Session (the supreme civil court in Scotland) in Cumbria County Council, Petitioners [2016] CSIH 92, and by the Scottish Land Court in Grains v Gifford's Executors, 2016 GWD 31-552.
Prior to his appointment at CUHK, Dr. Thomson taught constitutional and administrative law at the University of Edinburgh, where he was awarded his Ph.D. for his thesis 'The Constitutional Basis of Judicial Review in Scotland', under the supervision of Prof. Chris Himsworth and Prof. Neil Walker. In addition to his academic work, Dr. Thomson worked at a UK law firm and has acted in a consultancy and advisory capacity to public bodies and law firms in both Hong Kong and the UK.
Education
LL.B. (Hons.) (First Class), University of Edinburgh
Erasmus Exchange Scholarship, Katholieke Universiteit Leuven
Dip.L.P., University of Edinburgh
LL.M. (Res.) (by Thesis), University of Edinburgh
Ph.D., University of Edinburgh
Administrative Law / Judicial Review
Constitutional Law
Equity and Equitable Jurisdiction
AWARDS
Award for High Impact in Legal Scholarship (The Chinese University of Hong Kong)
GRANTS, FUNDING AND SCHOLARSHIPS
Lee Hysan Foundation Research Grant
Endowment Fund Research Grant
Direct Grant for Research (The Chinese University of Hong Kong)
Grant for Writing of Legal Books (Clark Foundation for Legal Education)
Principal's Career Development Ph.D. Scholarship (University of Edinburgh)
Pritchard Educational Trust Scholarship (Law Society of Scotland)
Erasmus Exchange Scholarship (European Commission)
Appointments
Legal Adviser to the Ombudsman of Hong Kong (by statutory appointment)
Constitutional Affairs and Human Rights Committee, Law Society of Hong Kong (Member)
Overseas Lawyers Qualification Examination (Examiner)
Selected Publications
Books
S. Thomson, Administrative Law in Hong Kong (Cambridge University Press) (forthcoming)
S. Thomson, The Nobile Officium: The Extraordinary Equitable Jurisdiction of the Supreme Courts of Scotland (with a foreword by Lord Hope of Craighead KT) (Avizandum, 2015) (purchase)
Journal articles
S. Thomson, 'Judicial Review and Public Law: Challenging the Preconceptions of a Troubled Taxonomy' (2017) 41(2) Melbourne University Law Review (forthcoming)
S. Thomson, 'The Public Sector Ombudsman in Greater China: Four 'Chinese' Models of Administrative Supervision' (2017) 39(3) University of Pennsylvania Journal of International Law (forthcoming)
S. Thomson, 'Clutter and Cobwebs: How Administrative Tribunals in Hong Kong can learn from the UK' (2017) 36(3) Civil Justice Quarterly 363-386
S. Thomson, 'The Doctrinal Core of the Supervisory Jurisdiction of the Court of Session' [2016] Public Law 670-689 (access online)
S. Thomson, 'Leave Without Delay: The Requirement to Make Prompt Application for Leave to Apply for Judicial Review' (2015) 45(2) Hong Kong Law Journal 449-468
S. Thomson, 'Mixed Jurisdiction and the Scottish Legal Tradition: Reconsidering the Concept of Mixture' (2014) 7(1) Journal of Civil Law Studies 51-91 (access online)
S. Thomson, 'The Nobile Officium in Civil Jurisdiction: An Outline of Equitable Gap-Filling in Scotland' (2014) 29 Tulane European & Civil Law Forum 125-146 (access online)
S. Thomson & M. McKeown, 'Sources of Law and the UK Honours System' (2012) 14 Scots Law Times 81-85
S. Thomson, 'Scots Equity and the Nobile Officium' (2010) 2 Juridical Review 93-114
S. Thomson & M. McKeown, 'The Role of the House of Lords in a Hung Parliament' (2010) 19 Scots Law Times 99-103
Book Reviews
S. Thomson, Review of V.V. Palmer, M.Y. Mattar and A. Koppel (eds), 'Mixed Legal Systems, East and West' (Ashgate, 2015) (2017) 9(2) Journal of Civil Law Studies 535-538 (access online)
Unpublished Papers and Presentations
'The Impact of English Judicial Review on Scots Judicial Review' (2017) (forthcoming)

Paper presentation at the Indigenising Administrative Law Symposium, Faculty of Law, National University of Singapore

'The 20th Anniversary of What? Continuity and Change in Hong Kong's Constitution' (2017) (forthcoming)

Paper presentation at the International Conference on the Evolution of the Constitutional Order of the HKSAR: Theoretical and Comparative Perspectives, Centre for Chinese and Comparative Law, City University of Hong Kong

'Hong Kong's Obscene Articles Tribunal: The Tip of the Separation of Powers Iceberg'

Article, Administrative Law in the Common Law World, 13th October 2017 (access online)

'Administrative Tribunals in the Hong Kong SAR: In Need of Reform?' (2017) School of Law, Tsinghua University, China
'Must Judicial Review be Classed as a Branch of Public Law?' (2016) Cambridge Public Law Conference, University of Cambridge, UK
'Administrative Supervision in Mainland China, Hong Kong, Macau and Taiwan: Similarities and Contrasts' (2016) Boya Public Law Lecture, Constitutional and Administrative Law Centre, Peking University, China
'Chinese Conceptions of the Ombudsman: Convergence or Divergence?' (2016) Paper presentation at the Centre for Asian Law and Centre for Comparative Constitutional Studies, University of Melbourne, Australia
'Constitutional and Legal-Systemic Implications of Judicial Narrative in the Context of Judicial Review: Towards a General Theory' (2015)

Paper presentation at the Faculty of Law, University of Auckland, New Zealand

'Judicial Perception and Treatment of Scottish and English Jurisprudence: A Case Study of Mixed Pedigree of Sources in Scots Judicial Review' (2015)

Paper presentation at the Fourth Worldwide Congress of the World Society of Mixed Jurisdiction Jurists, Faculty of Law, McGill University, Montreal, Canada

'The Nobile Officium: Principles and Practice' (2015)

Lecture at the Faculty of Advocates and Supreme Courts of Scotland, Parliament House, Edinburgh, UK

'Constitutional Codification in an Independent Scotland: Is It Really Necessary?' (2014)


Article, Scottish Constitutional Futures Forum, 14th April 2014 (access online)

'The Nobile Officium in Civil Jurisdiction: An Outline of Equitable Gap-Filling in Scotland' (2013)

Paper presented at the Johns Hopkins University SAIS, the Eason Weinmann Center for Comparative Law and the World Society of Mixed Jurisdiction Jurists International Conference, "Filling the Gaps: The Study of Judicial Creativity and Equity in Mixed Jurisdictions and Beyond", Department of Social and Political Sciences, University of Catania, Italy

'An Emerging Hierarchy of Constitutional Norms? Parliamentary Supremacy and the Rule of Law from a Scottish Perspective' (2012)

Paper presented at the Centre for European Constitutionalization and Security, Faculty of Law, University of Copenhagen, Denmark

'The nobile officium of the Court of Session' (2011)

Paper presented at the seminar "Equity as a source of law and legal decisions", Centre for Law and Society, School of Law, University of Edinburgh, U.K.

'The supervisory jurisdictions and judicial review of the Upper Tribunal: The cases of Eba v Advocate-General for Scotland and R. (on the application of Cart) v The Upper Tribunal' (2011)

Paper presented at the Scottish Young Legal Researchers Colloquium, University of Dundee, U.K.

'The courts and the constitutional framework of the United Kingdom: A case study in judicial review and the constitutional frontier with the European Union' (2011)

Guest lecture at the Faculty of Law, National University of Kyiv-Mohyla Academy, Ukraine