PEOPLE
ACADEMIC STAFF
Prof. Martin DORIS
Assistant Professor
Co-Director, Mediation Institute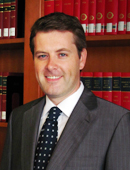 Tel
(852) 3943 1605
Fax
(852) 2994 2505
Email
m.doris@cuhk.edu.hk
Office

Room 617,
Faculty of Law,
6/F, Lee Shau Kee Building,
The Chinese University of Hong Kong
Sha Tin, NT, Hong Kong SAR
Prof. Martin Doris joined the Faculty in 2010 and is a Director of the Faculty's Centre for Financial Regulation and Economic Development (CFRED) and co Director of the Mediation Institute. A Fellow of the UK Higher Education Academy, Prof. Doris has held past teaching positions at a number of leading UK law schools and is a former Assistant Dean at the Faculty. He holds a first class honours in Common and Civil Law with Hispanic Studies from the Queen's University of Belfast and read for his PhD in law at the European University Institute, Florence.
A CEDR, HKIAC and HKMAAL accredited mediator and a Fellow of the Hong Kong Institute of Arbitrators, his primary teaching and research interests are in the fields of transnational private law and commercial dispute resolution. Prof. Doris has received substantial research funding from the Hong Kong Research Grants Council, the UK Department of Education and the Spanish Ministry of Justice. His research has further been generously supported by a number of public and private institutions, including the Office of Academic Links (China), the Oñati Institute, Lee Woo Sing College and the UK based Adam Smith Research Foundation. Prof. Doris is further an active contributor to the research activities of the European Union Academic Programme (EUAP) in Hong Kong, which serves to strengthen research collaboration between scholars in the EU and East Asia. He has held visiting research positions at a host of leading institutions, including Sydney Law School, the Oxford Institute of European and Comparative Law, the Center for the Study of Law and Society at the University of California at Berkeley, the University of Vienna and the Institute of European Studies in Madrid. In the summer of 2010, he was an Erasmus visiting professor at the University of Mainz in Germany.
A Domain Names panelist at the Hong Kong International Arbitration Centre, Prof. Doris is further a Fellow of the Chartered Institute of Arbitrators and listed on their Approved Faculty list. He serves as deputy chair for Professional Development and Training and co chair for University Outreach with the East Asia Branch of the Chartered Institute of Arbitrators and has previously served on the Executive Committee of the Hong Kong Corporate Counsel Association. He is a former co Editor-in-Chief of the Vindobona Journal of International Commercial Law and Arbitration and served on the editorial board of the International Journal of Private Law from 2008-2012.
Prof. Doris welcomes proposals for postgraduate supervision in the fields of transnational private law, commercial dispute resolution and telecommunications law and policy.
Education
PhD (European University Institute, Florence)
LLB (Queen's University, Belfast)
Professional Qualifications and Recognitions
Fellow (UK Higher Education Academy)
Fellow (European Law Institute)
Fellow (Chartered Institute of Arbitrators)
Fellow (Hong Kong Institute of Arbitrators)
Approved Faculty (Chartered Institute of Arbitrators)
International Advisory Board member (Vienna eCenter)
International Advisory Board member (AIA-LNI, Brussels)
CEDR accredited mediator
EU accredited mediator (civil and commercial disputes)
HKIAC accredited mediator
HKMAAL accredited mediator
BVC (College of Law, London)
Research Fields
Contract law
International and domestic sales law
Arbitration and commercial dispute resolution
Telecommunications law and policy
Awards and Recognitions (selection)
Global Research Excellence Scholar, Office of Academic Links (China), Hong Kong
Phoenicia scholar, Bar European Group, London
Sir John Holt scholar, The Honourable Society of Gray's Inn, London
Erasmus Visiting Professor, Faculty of Law, Johannes-Gutenberg University, Mainz
Spanish Ministry of Foreign Affairs 'Salvador de Madariaga' Scholar, Madrid
Socrates Scholar, Faculty of Law, University of Salamanca
Edgar Graham memorial scholar, Queen's University, Belfast
Grand Jury Bursary Prize, Queen's University, Belfast
Law Society of Northern Ireland annual scholar
Research Funding (selection)
'International Partnerships Development Programme' Bursary (with Oxford Institute of European and Comparative Law, Faculty of Law, Oxford), OAL-China, Hong Kong (2014)
'Cloud Contracts and Cloud Disputes: Hong Kong and Singapore Compared', DG Research Grant (PI), Hong Kong (2014)
Lee Woo Sing College Conference Bursary (2014)
'Innovation and Competition in the Telecommunications Sector', RGC Public Policy Research Grant (Co-I), Hong Kong (2012)
'Modernising Domestic Sales Law – The Impact of European and Transnational Law and Practice', DG Research Grant (PI), Hong Kong (2012)
Lee Woo Sing College Conference Bursary (2012)
'Challenges for the Regulation of Communications', RGC/Procore Comparative Research Grant, University of Lille and the Chinese University of Hong Kong (Research Team member), Hong Kong (2011)
UEF-China/Sino British Trust fund, Hong Kong (2011)
International Institute for the Sociology of Law Conference and Workshop Fund, Oñati, Spain (2011)
Adam Smith Research Foundation seedcorn fund, Glasgow, UK (2008)
Monographs:
Dispute Avoidance and European Contract Law, European Studies in Private Law Series, Europa Law Publishing (2008)
Commentaries/Collections:
The Sale of Goods Ordinance, Hong Kong Commentary and Annotations Library Series, Sweet & Maxwell, forthcoming
Articles & Book Chapters
Digital Content Contracts, the Right of Withdrawal, and the Drafting of a Hong Kong Consumer Rights Ordinance (2015) Chinese Journal of Comparative Law forthcoming
Promising Options, Dead Ends and the Reform of Australian Contract Law (2014) 34(1) Legal Studies 24
The Role of the ECJ in Redefining the Relationship between EU Competition Law Enforcement and the European Convention on Human Rights (with S. Marco Colino) in Diez-Hochleitner Rodriguez et al (eds), Recent Trends in the Case Law of the Court of Justice of the European Union, 2008-2011, Wolters-Kluwer (2012)
Developing Consumer ODR in the European Union – a Model to Imitate? (2012) 22(9) Australian Product Liability Reporter 280
Taking Solace in Self Exclusion? Problem Gambling, a Duty of Care and the Impact on EC Private Law (2009) 17(3) European Review of Private Law 387 (with S. Marco Colino)
Harmonising by Numbers (2007) 32(6) European Law Review 878
Bargaining and Reliance in new European Contract Law (2007) 3 InDret 1
A European Insurance Market and EC Contract Law (2007) 10 European Current Law 6
Online Gambling – Reconciling New Technology and the International Consumer Interest (with S. Marco Colino) in Law and Technology, Acta Press (2007)
The Continued Resonance and Challenge of the ius commune for Modern EC Contract Law (2006) 34(2) International Journal of Legal Information 391
Did We Lose the Baby with the Bath Water? The Late Scholastic Contribution to the Common Law of Contracts, Texas Wesleyan Law Review (2005) 11 Texas Wesleyan Law Review 361
Cross Border Contracting in the European Union – Interoperability Problems and the Impact of a Community wide Optional Instrument (2005) 11(2) Tilburg Foreign Law Review 36
Reviews
Review of Maldon and Nottage (eds), Consumer Law and Policy in Australia and New Zealand (2014) Legal Studies forthcoming
Review of Wolff (ed), The New York Convention. A Commentary (2014) 17(2) Vindobona Journal of International Commercial Law and Arbitration 113
Review of Schwenzer et al, International Sales Law (2013) 16 Vindobona Journal of International Commercial Law and Arbitration 113
Review of Miller, EU Contract Law – Exploring Europeanisation (2013) 33(3) Legal Studies 501
Review of Solove, Understanding Privacy (2010) 14(3) Edinburgh Law Review 543
Review of Saidov, The Law of Damages in International Sales: The CISG and other International Instruments (2009) 13(1) Edinburgh Law Review 540
Review of MacQueen & Zimmermann (eds), European contract law – Scots & South African perspectives (2007) 32(4) European Law Review 600