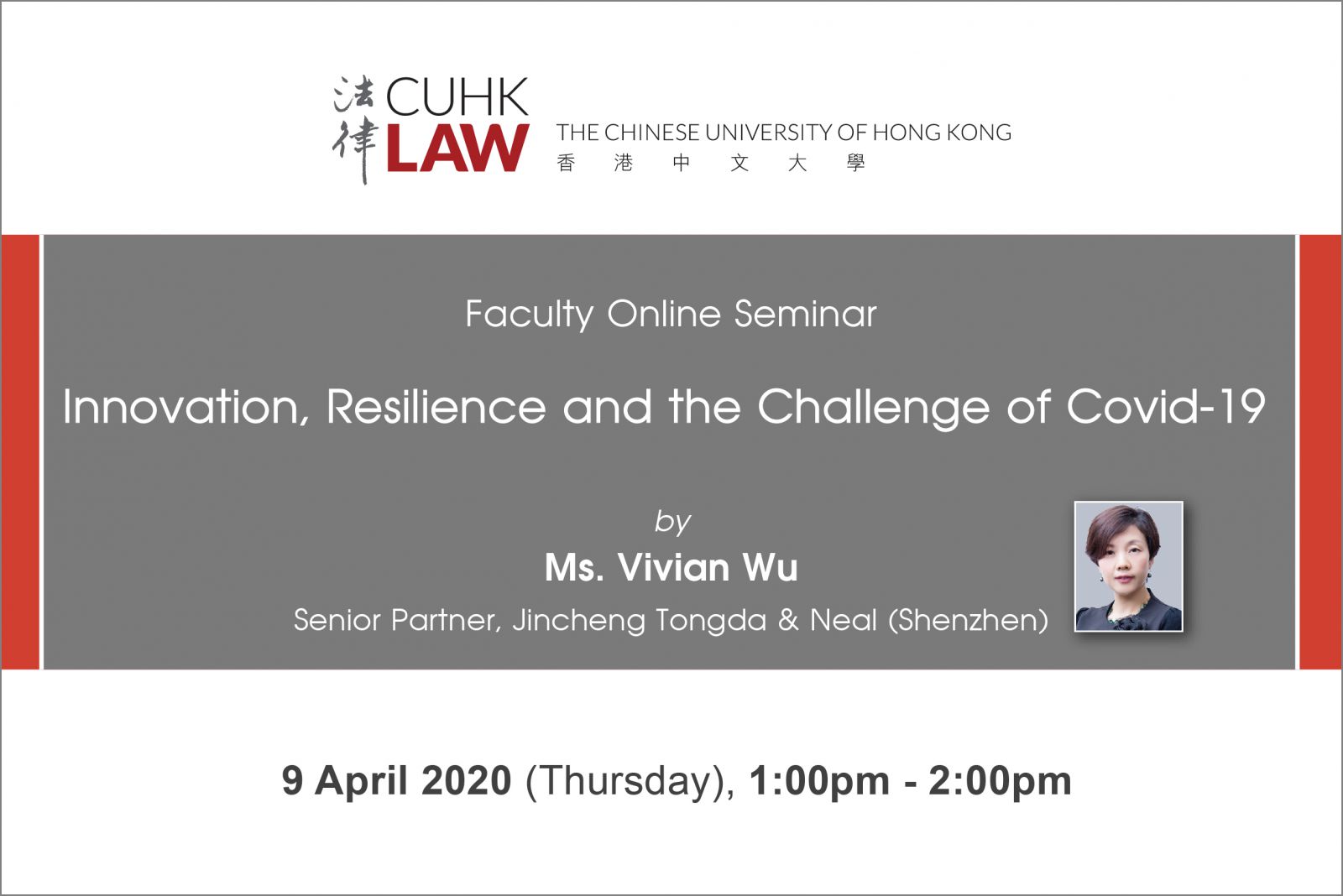 Faculty Online Seminar – "Innovation, Resilience and the Challenge of Covid-19" by Ms. Vivian Wu
The outbreak of Covid-19 has made grave impact on China's economy and the society since January 2020. The legal industry is no exception. From the perspective of a mainland legal practitioner, Ms. Wu will discuss the great challenge faced by the judicial system, the legal profession and the clients and how they have managed to respond in times of this unprecedented public health crisis. The seminar further examines recent reform of the rules of evidence in China including the use of electronic data and the implementation of the good faith principle in civil litigation. A better understanding of the mainland legal profession and China's latest reform in civil procedure will assist students to communicate and work more effectively with mainland clients and lawyers in their future legal practice.
About the speaker:
Ms. Vivian Wu is the Senior Partner in charge of the Finance and Projects Department of JT&N in Shenzhen. She specializes in general banking, finance, securities transaction, corporate, real estate and foreign dispute resolution. She has extensive experience in a wide range of loan and other debt related transactions (both domestic and cross-border) including debt restructuring, club and syndicated loans, property financing and acquisition, and asset financing. Her clients include local and foreign banks, domestic and international corporations, real estate investment trusts and funds. Ms. Vivian Wu has been selected by the All China Lawyers Association and the Guangdong Province Lawyers Association as the "Leading Talents in Foreign-related Legal Affairs".
This seminar is organized for CUHK LAW students to attend only.