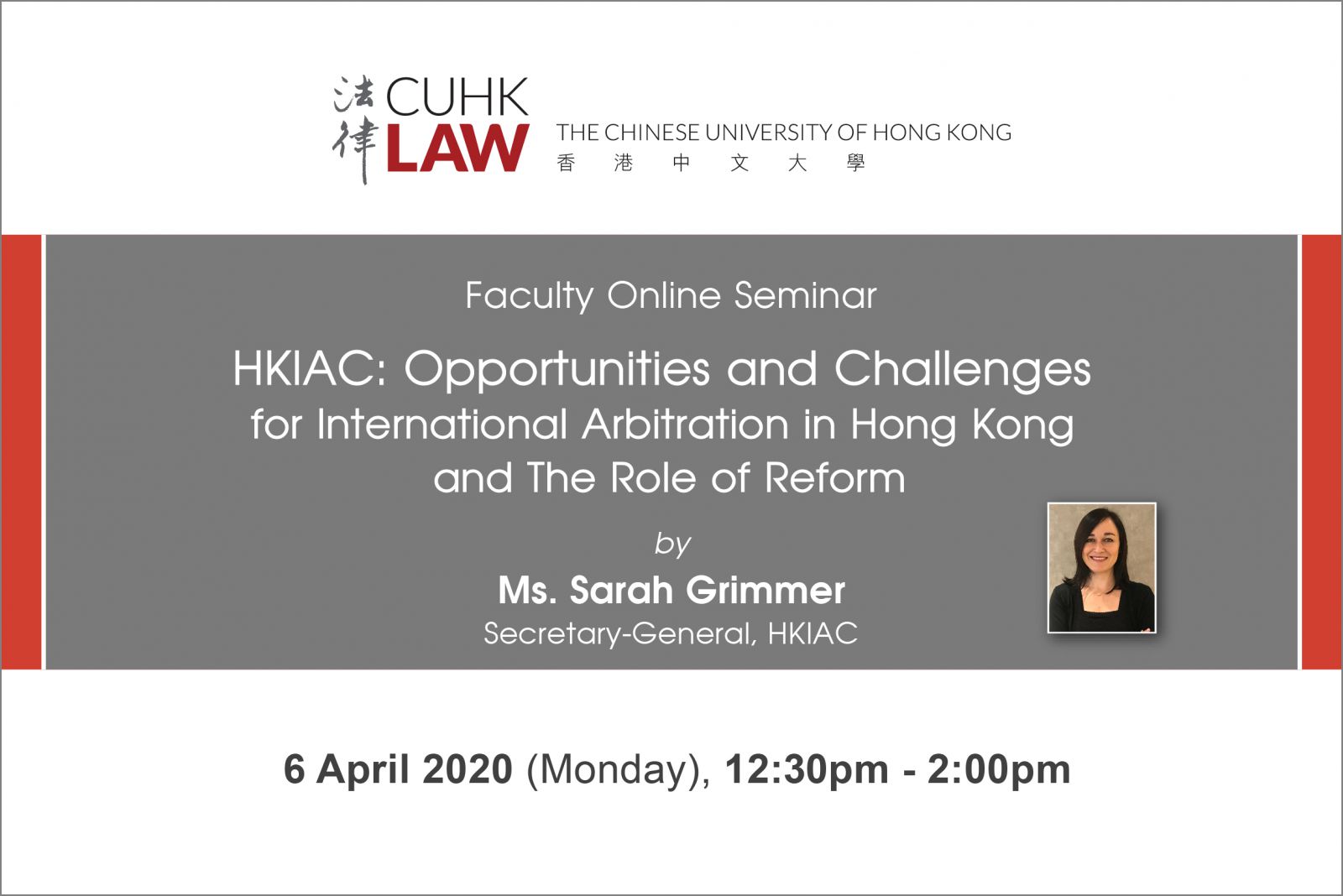 Faculty Online Seminar – "HKIAC: Opportunities and Challenges for International Arbitration in Hong Kong and The Role of Reform" by Ms. Sarah Grimmer
The presentation will address key opportunities and challenges for international arbitration in Hong Kong and then discuss the impact of reform at an institutional level, an inter-regional level (focusing on Hong Kong SAR and Mainland China) and an international level (focusing on state positions at investor-State dispute settlement reform at the UNCITRAL Working Group III sessions, the Regional Comprehensive Economic Partnership, and the Singapore Convention on Mediation.
About the speaker:
Ms. Sarah Grimmer is Secretary-General of the HKIAC, responsible for its international dispute resolution services and operations out of its offices in Hong Kong, Seoul and Shanghai. She was formerly Senior Legal Counsel at the Permanent Court of Arbitration ("PCA") where she served as registrar in inter-State arbitrations and was appointed tribunal secretary in multiple investor-State arbitrations. Prior to joining the PCA, Sarah served for three years as Assistant Counsel at the ICC International Court of Arbitration in Paris. She was also a member of the international arbitration group at Shearman & Sterling LLP in Paris, prior to which she worked in private practice in Auckland.
In 2020 and 2019, Sarah was recognized by Who's Who Legal as a Global Elite Thought Leader in arbitration. She is currently a member of the ICCA-ASIL Task Force on Damages (2016) and the ICCA Diversity Task Force (2019). She previously served on the Special Tribunal for Lebanon Disciplinary Board (2015-2017) and was a member of the IBA Investment Arbitration Subcommittee (2014-2016).
Sarah has an LLM from Cambridge University and an LLB/BA (Criminology) from Victoria University of Wellington. She is admitted to practice law in New Zealand.
The online seminar is organized for CUHK Law students to attend only.