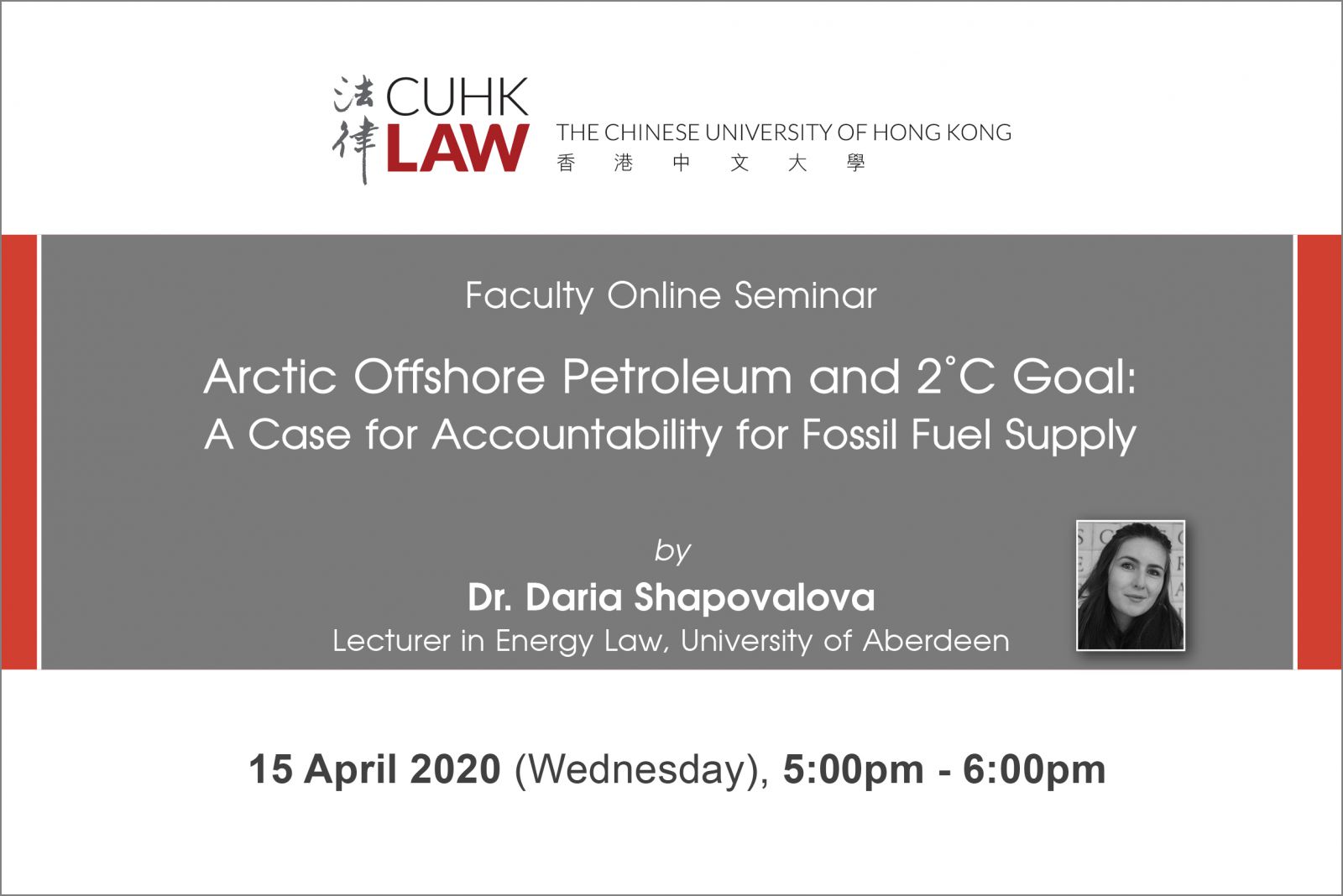 Faculty Online Seminar – "Arctic Offshore Petroleum and 2°C Goal: A Case for Accountability for Fossil Fuel Supply" by Dr. Daria Shapovalova
The Arctic is both the place disproportionately affected by climate change and the potential venue for large-scale oil and gas development. Production and subsequent burning of these resources (even if outside the Arctic) would compromise the legally established target of keeping global warming below 2°C. The global regulatory efforts on climate change are centred on greenhouse gas emissions, and consequently fossil fuel consumption, almost ignoring the supply side. In the absence of universal strict global emissions reduction targets, petroleum exports and carbon leakage jeopardise the effectiveness of the climate change regime. Through the examination of the current practice and the relevant requirements in treaties and customary law, this paper argues for the establishment of accountability for the production of Arctic petroleum in light of climate change.
About the speaker:
Dr. Daria Shapovalova is a lecturer in energy law at the University of Aberdeen. She obtained a PhD at Aberdeen in 2017, after completing legal education in Ukraine and the Netherlands. In Aberdeen, Daria leads courses on energy law, energy and environment, and low-carbon energy transition. Her main research interests are in the role of law in regulating upstream and downstream energy sectors with a focus on environmental protection and human rights. Daria has professional experience in energy consultancy and legal practice. She acts as an academic peer reviewer for journals in international and energy law and regularly presents her work at international conferences. Daria is a member of the UK Environmental Law Association, World Commission of Environmental Law, and International Law Association. Currently, Daria is working on a manuscript on climate and energy law and leads a British Academy-funded project on impact assessment in submarine cable projects in Greenland.
The online seminar is organized for CUHK Law students to attend only.