Property Law Seminar Series – "Treating Non-proprietary Assets as Proprietary" by Prof. Judith Sihombing (Online)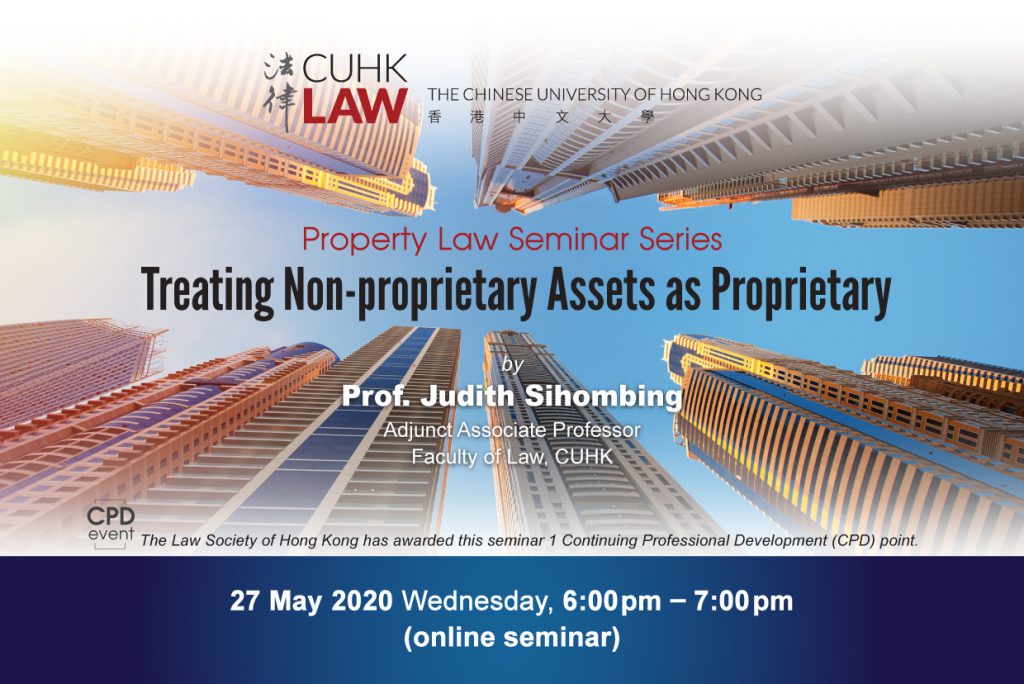 Property Law Seminar Series – "Treating Non-proprietary Assets as Proprietary" by Prof. Judith Sihombing (Online)
Contract produces personal [non-proprietary] interests: a contract can also produce proprietary interests dependent on the nature of the contract: some interests have no formal relationship to contract nor property laws; generally, these "orphan interests" ["OIs"], whilst said to be "personal" have no place in the formal structure of interests under the common law;this really means there is no remedy for the OI.
However, changes in the availability of equitable remedies can allow some remedial effect to be given to certain of these OIs with the result that the remedy "prevents unconscionability" which is the prime purpose for equity in action. Equity does not "offend" questions of categorization, or of contract, or of other formal areas of the law in so doing.
Which OIs are these? Examples include certain examples of licences: certain constructive trusts: restitution and equitable compensation: may implied good faith: and so; these cut-across the three property classifications (especially perhaps choses in action), and across requirements for an enforceable contract (and perhaps across assumption of responsibility, and various estoppels).
About the speaker:
Judith Sihombing was formerly an Associate Professor in law at the University of Hong Kong. She combines 25 years of academic experience with five years' practice as a solicitor in Victoria. She has had extensive experience in presenting seminars and conferences including 'The Judith Sihombing Malaysian Land Law Series', 'Drafting a Commercial Document', 'Remedies for the Breach of Contract for the Sale of Land', and 'Recent Developments in Mortgages'. In addition, Judith has authored books and articles on property law in Hong Kong and Malaysia, and on commercial law. She is currently an Adjunct Associate Professor at CUHK Law.
The Law Society of Hong Kong has awarded this seminar 1 Continuing Professional Development (CPD) point.