Our world has transformed into a digital one. Some would even go further and say we now live a virtual existence. Innovation itself has evolved into an Intangible Asset (IA). Material science, robotics, drone technology lead the wave of discoveries. Digital innovations, which involve data collection and AI, create prominent value to businesses and affect every facet of our lives. Our conference will zoom in on how IA and Intellectual Property (IP) are connected, particularly how inventions and innovations can be expedited using IA to analyze and manage IP. Workshops will delve into IA protection and ownership. Conference sessions will touch upon the many uses of IA and its accessibility, including NFTs, celebrity identity ownership, digital innovation, legal issues in the metaverse and multiverse, global trade secrets, IP updates, the IP-to-IPO journey, biomedical IP, digitization and IP litigation in China, IP and international economy.
The Law Society of Hong Kong has awarded Continuing Professional Development (CPD) points of this event as follows: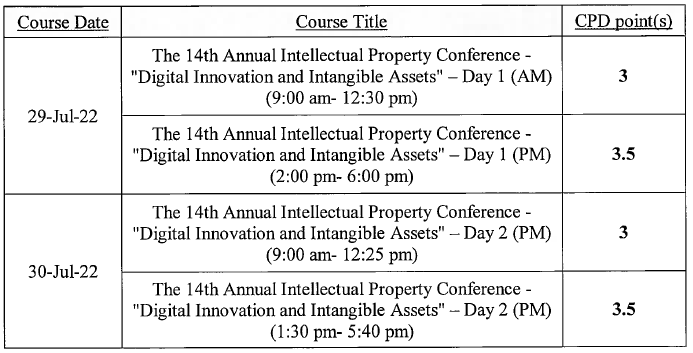 Click here for details of the conference.