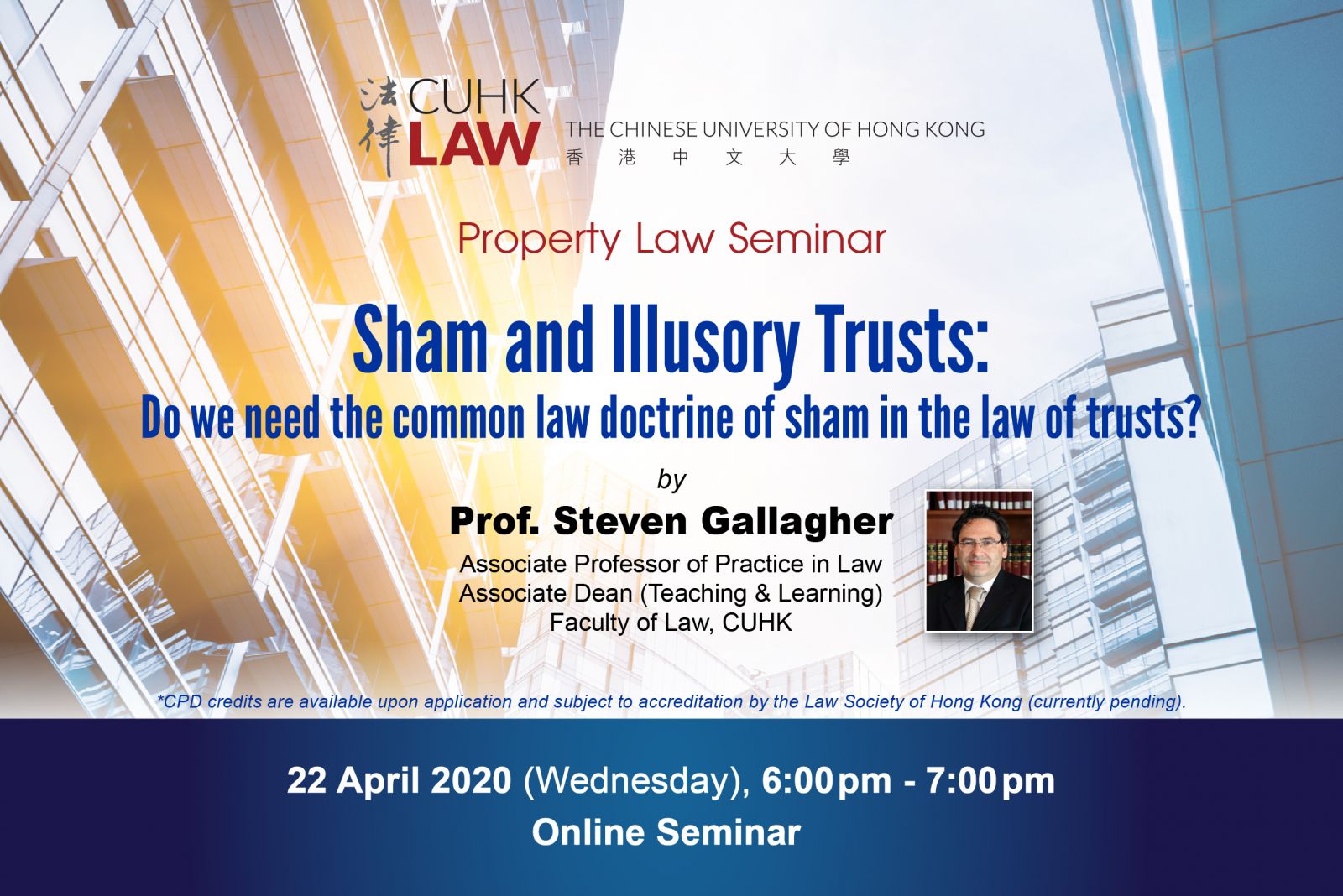 Property Law Seminar – "Sham and Illusory Trusts: Do We Need the Common Law Doctrine of Sham in the Law of Trusts?" by Prof. Steven Gallagher
An issue that most trustees encounter is a settlor who does not really want to settle. Settlors attempts to retain control of their property after constituting a trust have at times been attacked by their creditors and spouses as indicating that there is no trust- it is a sham. The doctrine of sham is a difficult doctrine in many ways- its establishment has grave implications for all involved in the transaction, perhaps most importantly for professionals such as professional trustees. This seminar considers the development of the doctrine of sham in England from Snook v London and West Riding Investments [1967] 2 QB 786, Stone & Others v Hitch [2001] STC 214, and A v A (St George Trustees Ltd v Others, Interveners) [2007] 2 FLR 467. The seminar then considers the "controversial" judgment in JSC Mezhdunarodniy Promyshlenniy Bank and another v Pugachev (Pugachev v. Pugachev) [2017] EWHC 2426 (Ch). The discussion and application of sham in Hong Kong is considered in cases including Kan Lai Kwan v Poon Lok To Otto & HSBC International Trustee Ltd [2014] HKEC 1174, H v W [2014] HKEC 955, and Tao, Soh Ngun (AKA Lo To Li Kwan or Lo To Lee Kwan) v. HSBC International Trustee Limited [2019] HKCFI 1268. The seminar concludes by considering how the law of trusts might deal with these issues without resorting to the common law doctrine and posing the question – do we need the common law doctrine of sham in the law of trusts?
About the speaker: Prof. Steven Gallagher
The Law Society of Hong Kong has awarded this seminar 1 Continuing Professional Development (CPD) point.