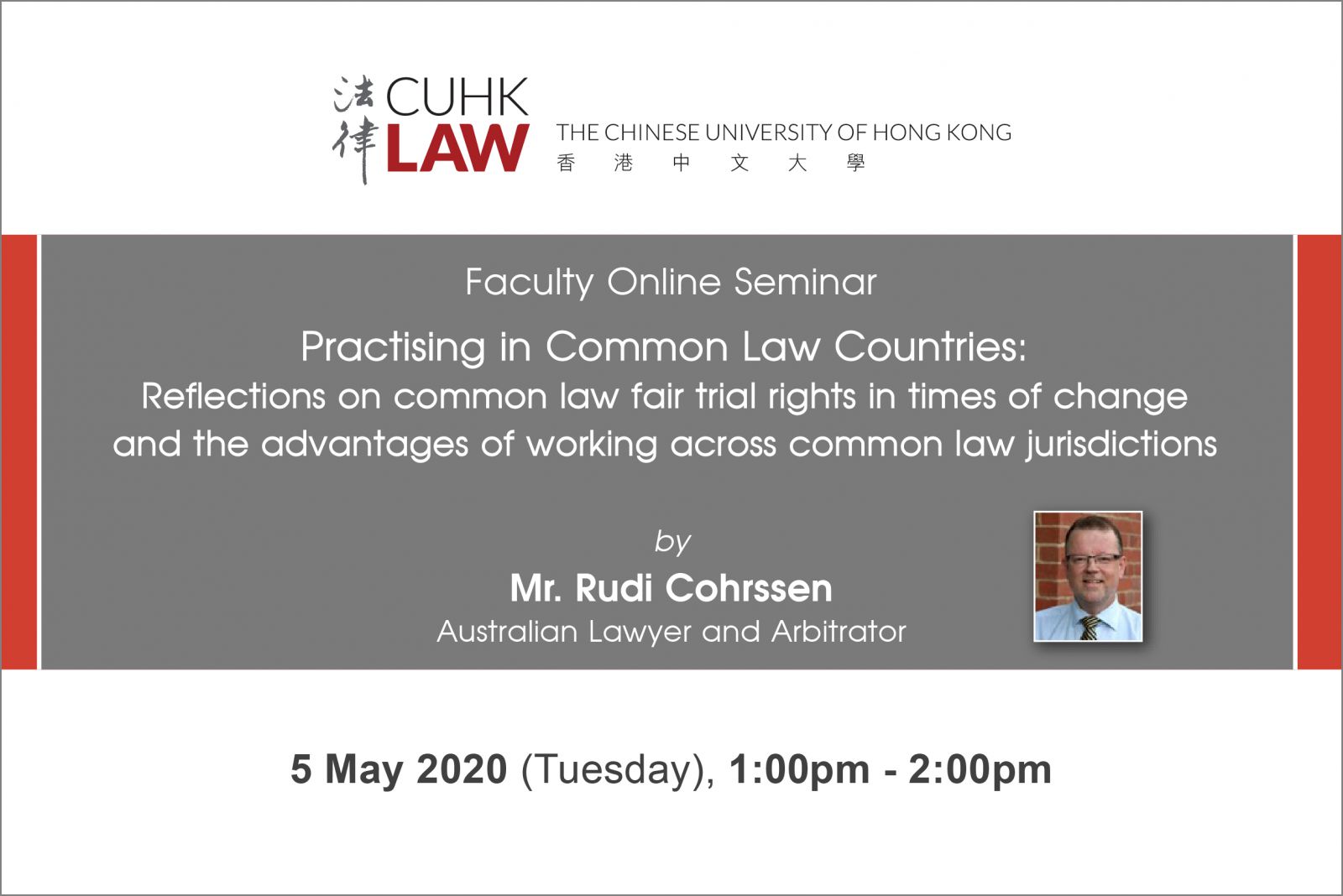 Faculty Online Seminar – "Practising in Common Law Countries: Reflections on common law fair trial rights in times of change and the advantages of working across common law jurisdictions" by Mr. Rudi Cohrssen
The common law has developed from being a body of law collecting the standard customary law of England from the 12thcentury onwards, to a contemporary system of principles and norms that:
form a fundamental part of several legal systems, including Hong Kong, the United States of America, Australia, New Zealand, Canada; and
strongly influence the national law in a number of other countries (e.g. South Africa, Namibia, Botswana, Zambia and Zimbabwe).
Although the common law as a normative construct has retained its essential characteristics and features, both the common law and its institutions adapt and evolve at a national or 'country' level to meet the changes and needs of the countries in which it is located.
This seminar will discuss:
A key feature of the common law – The common law's ability to inform and adapt to change at a national or 'country' level, with reference to common law fair trial rights. As case studies, reference will be made to the role played by common law in interpreting and giving meaning to constitutional fair trial rights found in the bill of rights of newly formed constitutional democracies in Namibia (1990) and South Africa (1993-1996).
A key advantage of being a common law student or lawyer – The relative advantages (and challenges) for contemporary lawyers who have a grounding in common law studies when working across jurisdictions in an increasingly globalized legal and commercial environment.
About the speaker:
Mr. Rudi Cohrssen is an Australian lawyer and arbitrator, based in Hong Kong. He holds the degrees BA, LLB and LLM. He also holds a Diploma in International Commercial Arbitration, is a fellow of the Chartered Institute of Arbitrators (UK), and is a graduate of the Australian Institute of Company Directors. He was admitted as a legal practitioner in Australia in 2003 and joined the Victorian Bar as a commercial barrister in 2007. Rudi is also admitted as an advocate (barrister) in South Africa and as a legal practitioner (solicitor and barrister) in Namibia. Rudi's experience in working in common law jurisdictions includes working as a prosecutor (South Africa), a judicial officer (District Court and Regional Court Magistrate – Namibia), and barrister (Australia, South Africa and Namibia). Rudi specialises in commercial law and in litigation; acquisitions, divestments and transactional advice in the natural resources industry; and in commercial arbitration.
The seminar is organized for CUHK Law students to attend only.