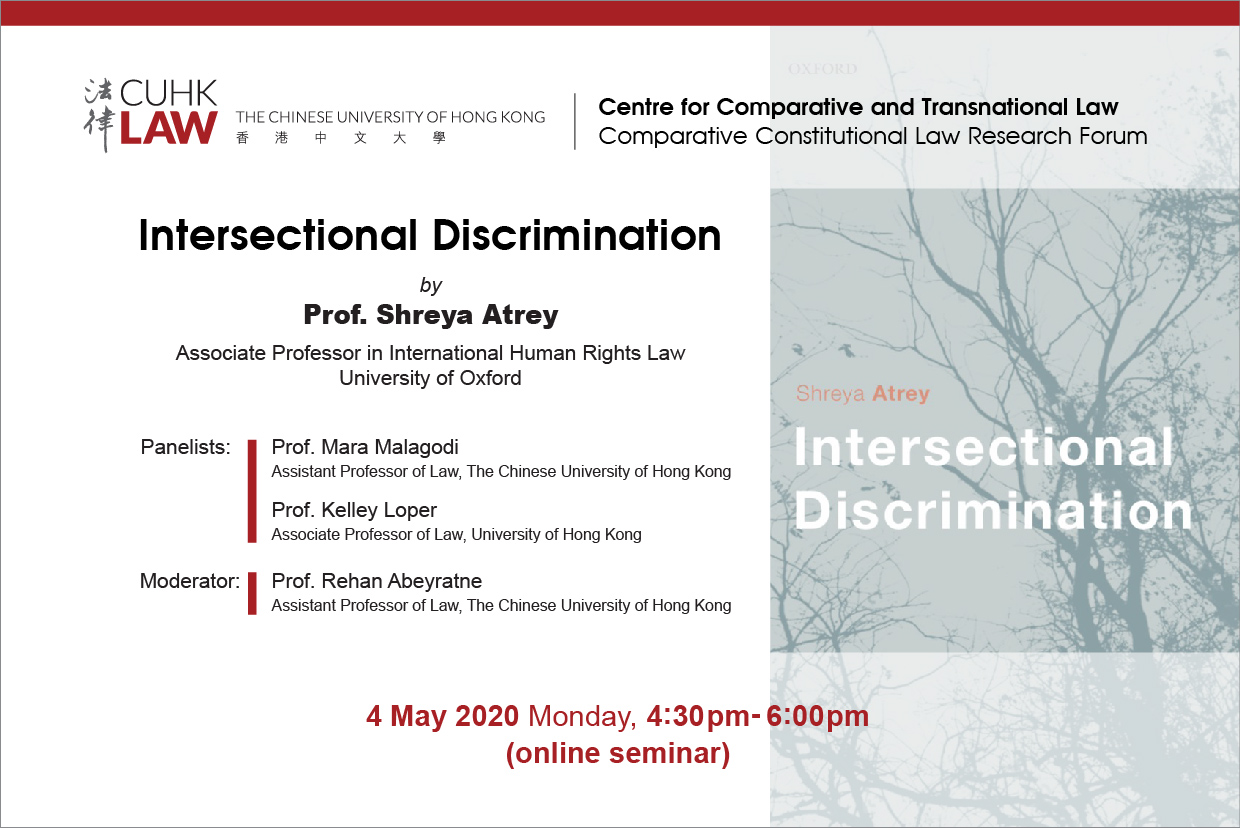 CCTL Comparative Constitutional Law Research Forum Seminar on "Intersectional Discrimination" (Online)
Prof. Shreya Atrey will talk about her new book Intersectional Discrimination (Oxford University Press 2019), which examines the concept of intersectional discrimination and the difficulties that jurisdictions around the world have faced in redressing it in the field of discrimination law. The term 'Intersectionality' was coined by Kimberlé Crenshaw in 1989. Thirty years since its conception, the term has become a buzzword in sociology, anthropology, feminist studies, psychology, literature, and politics. But it remains marginal in the discourse of discrimination law, where it was first conceived. Traversing its long and rich history of development, the book explains what intersectionality is as a theory and as a category of discrimination. It then explains what it takes for discrimination law to be reimagined from the perspective of intersectionality in reference to comparative laws in the US, UK, South Africa, Canada, India, and the jurisprudence of the European Courts (CJEU and ECtHR) and international human rights treaty bodies.
Lead speaker:
Shreya Atrey is an Associate Professor in International Human Rights Law at the Faculty of Law and Department for Continuing Education, based at the Bonavero Human Rights Institute at the University of Oxford. Her research is on discrimination law, feminist theory, poverty and disability law. Her monograph, Intersectional Discrimination (OUP2019), presents an account of intersectionality theory in comparative discrimination law. Previously, she was based at the University of Bristol Law School where she taught on Constitutional Rights, Public Law and International Human Rights Law courses. She has been a Max Weber Fellow at the European University Institute, Florence and a Hauser Postdoctoral Global Fellow at the NYU School of Law, New York. She completed BCL with distinction and DPhil in Law on the Rhodes Scholarship from Magdalen College, University of Oxford. She has served as the Chairperson of the Oxford Pro Bono Publico and is currently an associate member of the Oxford Human Rights Hub. Atrey is an Official Fellow of Kellogg College.
Panelists:
Mara Malagodi, Assistant Professor, CUHK LAW
Kelley Loper, Associate Professor of Law, HKU
Moderator:
Rehan Abeyratne, Assistant Professor, CUHK LAW