The 21st Red Cross International Humanitarian Law (IHL) Moot was held from 8-11 March 2023 in Hong Kong. After rounds of intensive competitions with 24 participating universities from the Asia Pacific region, the CUHK LAW Team progressed to the Quarter-final Round as the only team from Hong Kong and was awarded the Second Honourable Submission for Prosecutor Memorial.
The IHL Moot 2023 was co-organised by the Hong Kong Red Cross and the International Committee of the Red Cross Beijing Delegation in collaboration with The University of Hong Kong and The Chinese University of Hong Kong. This year's moot problem raised exciting issues concerning modes of warfare, such as employing herbicides causing excessive incidental damage to the natural environment, depriving prisoners of war of a fair and regular trial, and compelling participation in military operations. Judges of the Moot included international court judges, local and overseas legal practitioners, academics, and members of the International Committee of the Red Cross. Details of the competition are available here.
The CUHK LAW Red Cross Moot Team consisted of Terrence Koon Chung CHENG (PCLL), Gideon Shuen Him HO (LLB, Year 4) and Michael Ho Lun LEUNG (LLB, Year 2). They were coached by Mr. Arthur LEE and PCLL student Vanessa Man Yi WONG.
In preparation for the competition, the Team conducted extensive research on treaties and customary law constituting international humanitarian law. In addition, many practice sessions were organised before the Moot. During such sessions, the Team greatly benefited from the rigorous questions and comments from guest judges who kindly spared their precious time for the Team.  For this, the Team would like to thank the following guest judges for their valuable feedback and guidance: Prof. Stephen HALL, Prof. Yueming YAN, Mr. Jeffrey HILL, Ms. Athena CHEUNG, Ms. Christie LAM, Ms. Chris LAW, Mr. Michael Hoi Ming LEUNG, Ms. Winnie WAT and Ms. Velda YAU. They would also like to thank Mr. Sébastien LAFRANCE, Crown Counsel (Prosecutor) for the Public Prosecution Service of Canada, who has considerable experience in judging international moots, for showing his unfailing legal and emotional support in the four practice sessions.
Congratulations to the Red Cross Moot Team!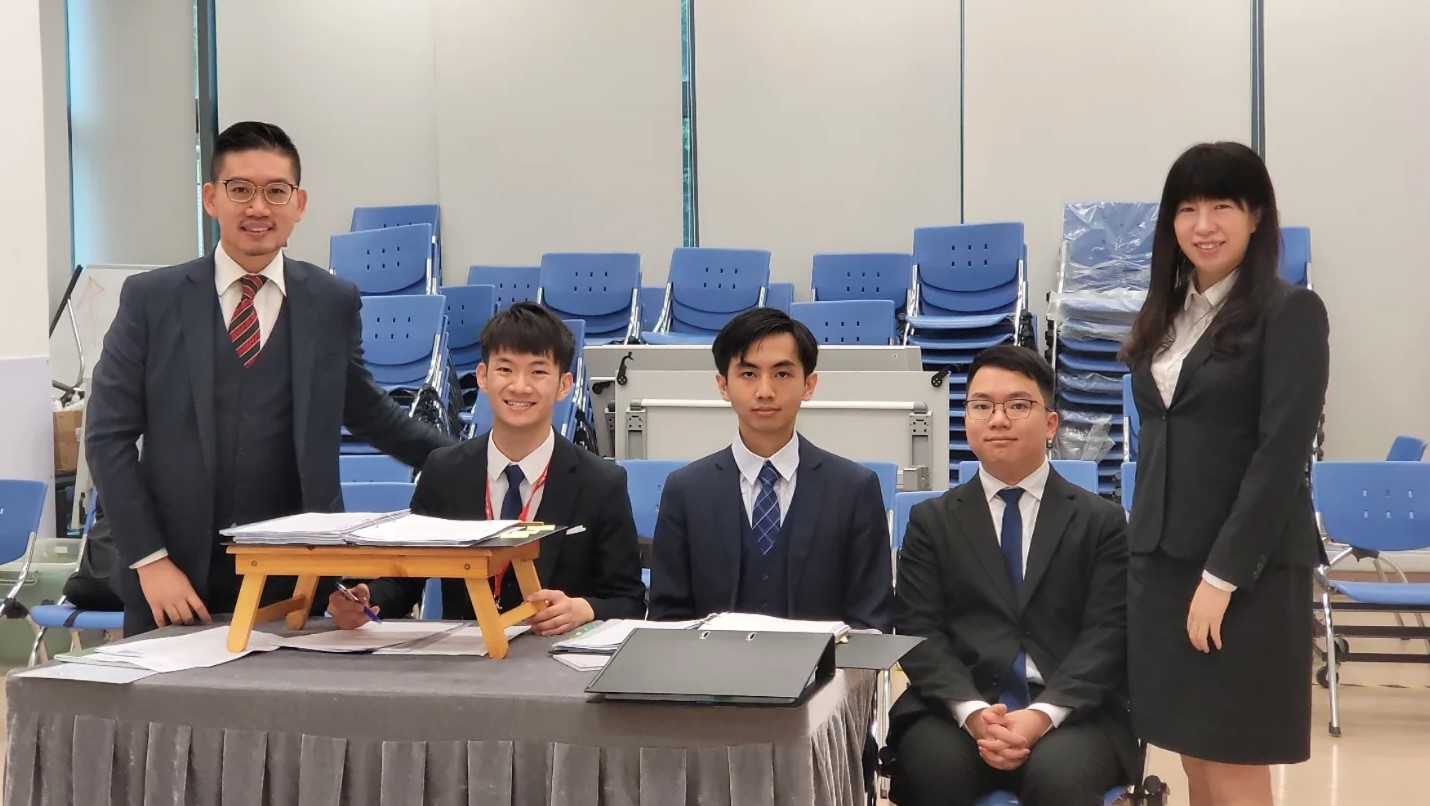 (from left to right) Mr. Arthur Lee, Terrence Cheng, Gideon Ho, Michael Leung and Vanessa Wong.