PEOPLE
Academic Staff
Prof. Christopher GANE
Dean and Simon F.S. Li Professor of Law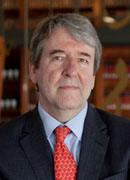 Tel
(852) 3943 7846 / 3943 0916
Fax
(852) 3942 0932
Email
christophergane@cuhk.edu.hk
Office

Room 646
Faculty of Law
6/F, Lee Shau Kee Building
The Chinese University of Hong Kong
Sha Tin, NT, Hong Kong SAR
Professor Christopher Gane was appointed Dean of the Faculty of Law in September 2011. Prior to coming to the Chinese University of Hong Kong he held the Chair of Scots Law at the University of Aberdeen where he was Dean of the Faculty of Law from 1995 to 2000. In 2004 he was appointed University Vice-Principal (Pro Vice-Chancellor) and over the next seven years was responsible for a number of strategic portfolios, including Library and Information Services, Culture and Communities and Equality and Diversity. In 2008 he was appointed Head of the College of Arts and Social Sciences (which comprises the Schools of Business; Divinity, History and Philosophy; Education; Language and Literature; Law; Social Sciences).
Prior to his appointment at Aberdeen he held academic appointments at the Universities of Reading, Edinburgh, Lancaster and Sussex. Between 1986 and 1989 he was Head of the Department of Law at the University of Lancaster. From 1991-1994 he was Director of the Centre for Legal Studies at the University of Sussex.
His research and teaching interests include domestic Criminal Law and Procedure, International Criminal Law and Human Rights. He is the author, co-author or editor of twelve books / editions and more than fifty scholarly articles and papers.
He has acted as consultant to the Scottish Executive in respect of their Human Rights obligations under the Scotland Act 1998 and the Human Rights Act 1998, as advisor to the Scottish Parliament on a number of criminal law, criminal justice and criminal procedure Bills and as advisor to the Scottish Government on European Union criminal law and procedure. He was a member of the Committee appointed by the Secretary of State for Scotland to review the Law on disposals of serious violent and serious sex offenders (the McLean Committee) and a member of the Sentencing Commission for Scotland throughout its term of appointment. He was the co-founder of the group which produced the Draft Criminal Code for Scotland, published by the Scottish Law Commission. In 1997 he was appointed an Honorary Sheriff of Grampian Highland and Islands at Aberdeen.