PEOPLE
ACADEMIC STAFF
Prof. Bryan MERCURIO
Professor
Outstanding Fellow of the Faculty of Law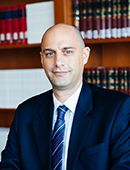 Tel
(852) 3943 1139
Fax
(852) 2994 2505
Email
b.mercurio@cuhk.edu.hk
Office

Room 638,
Faculty of Law,
6/F, Lee Shau Kee Building,
The Chinese University of Hong Kong
Sha Tin, NT, Hong Kong SAR

Bryan Mercurio is Professor and Vice Chancellor's Outstanding Fellow of the Faculty of Law at the Chinese University of Hong Kong (CUHK), having served as Associate Dean (Research) from 2010-2014. Professor Mercurio is a leading expert in the field of international economic law (IEL), with a particular interest in WTO law, the intersection between IEL and intellectual property rights, free trade agreements and increasingly international investment law. He is the author of one of the most widely prescribed case books on WTO law (2012 2nd edition, Hart Publishing, with Simon Lester and Arwel Davies) and editor of the leading collection on bilateral and regional trade agreements (2015 2nd edition, Cambridge University Press, with Simon Lester and Lorand Bartels). He has published articles in all of the leading trade journals (some of his work is available for download at http://ssrn.com/author=346439) and will soon be completing a three-year project funded by the Hong Kong Research Grants Council which investigates the pharmaceutical patent regime in Hong Kong with a view to making recommendations for regulatory amendments in line with the needs and priorities of Hong Kong.
Professor Mercurio has taught as a member of the faculty of law at the University of New South Wales (UNSW) and as visitor at several universities in Australia and North America. He has held visiting positions at a number of institutions in Asia, Europe and the United States and is currently a Professorial Visiting Fellow at UNSW and Senior Fellow at the Melbourne Law School. Prior to joining the academy, Professor Mercurio worked both in government and in private practice. He continues to advise law firms, international organizations, NGOs and several governments on a wide range of international trade and investment matters.
An active participant in a number of associations, he was a member of the founding committee and served on the inaugural Executive Board of the Society of International Economic Law (SIEL), a founding member of the SIEL Intellectual Property Law Network, a founding member of the Asian International Economic Law Network and is a Member for Hong Kong in the Asian WTO Research Network. In 2010 he authored the case for the ELSA WTO Moot Court Competition and from 2013-2015 served as a member of the International Centre for Trade and Sustainable Development/Evian Group E15 Expert Working Group on Trade and Innovation.
Education and Professional Qualifications
PhD, awarded the Vice-Chancellor's Commendation for Academic Excellence, Macquarie University
LLM in International Law (Distinction), University of New South Wales
JD (Hons) Case Western Reserve University, School of Law
BA (Politics & Government) (Hons) Ohio Wesleyan University

Admitted to the State Bar of California
Admitted to the District of Columbia Bar Association
International trade law
International economic law
International investment law
Intellectual property
Public law
Publications since 2010
Books
International Economic Law after the Global Crisis: A Tale of Fragmented Disciplines (Cambridge University Press, 2015) (with CL Lim)
Science and Technology in International Economic Law: Balancing Competing Interests (Routledge, 2013) (edited with Kuei-Jung Ni)
The Regulation of Services and Intellectual Property (Ashgate Publishing, 2013) (edited with Markus Krajewski)
World Trade Law: Text, Materials and Commentary (2nd edition, Hart Publishing, 2012)(with Simon Lester and Arwel Davies)

Journal Articles
"Safeguarding Public Welfare? – Intellectual Property Rights, Health and the Continuing Evolution of Treaty Drafting in International Investment Agreements" (2015) 6 Journal of International Dispute Settlement 252-276
 "The Flow-on Effect: How the TPP will re-shape trade relations in Asia" (2015) _ European Yearbook of International Economic Law _ (forthcoming)
"Foreign Direct Investment in the Pharmaceutical Industry – What are the Key Determinants? A Case Study of Singapore and Hong Kong" (2015) _ Asian Journal of Comparative Law _ (with Daria Kim) (50% contribution)
"The Trans-Pacific Partnership: Becoming a Game Changer" (2014) 37 The World Economy 1558-1574
"International Investment Agreements and Public Health: Neutralizing a Threat through Treaty Drafting" (2014) 92(7) Bulletin of the World Health Organization 520-525
 "Patently Lacking: An Analysis and Call for Systemic Review of Pharmaceutical Law and Policy – A Case Study of in Hong Kong" (2014) 9(1) Asian Journal of WTO & International Health Law and Policy 63-122
"The Anti-Counterfeiting Trade Agreement: Ambitious Aims vs Political Reality" (2013) 3(2) KLRI Journal of Law and Legislation 315-343
"The Trans-Pacific Partnership: Potential Failure to Game Changer" (2013) 14 Australian Institute of International Affairs Policy Commentary 21-30
"Awakening the Sleeping Giant: Intellectual Property Rights in International Investment Agreements" (2012) 15(3) Journal of International Economic Law 871-915
"Low Carbon Emission Standards and the WTO: Do Californian Measures targeting Greenhouse Gas Emissions Unfairly Discriminate against Canadian Oil" (2012) 45(2) University of British Columbia Law Review 451-496 (with Justin Wong)
"Beyond the Text: The Significance of the Anti-Counterfeiting Trade Agreement (ACTA)" (2012) 15(2) Journal of International Economic Law 361-390
"'Seizing' Pharmaceuticals in Transit: Analysing the WTO Dispute that Wasn't" (2012) 61(2) International and Comparative Law Quarterly 389-426
"China and the Enforcement of Intellectual Property Rights" (2012) 2012/1 China Perspectives 23-28

Published in French as: 'la protection et le respect de la propriété intellectuelle depuis l'accession de la Chine a l'Organisation mondiale du commerce' (2012) 2012/1 Perspectives Chinoises 23-29

"A Call for an Agreement on Trade-Related Aspects of Labour: Why and how the WTO should play a role in upholding core labour standards" (2012) 37(3) North Carolina Journal of International Law and Commercial Regulation 101-160 (with Renee Chartres)
"China's Evolving Role in WTO Dispute Settlement: Acceptance, Consolidation and Activation" (2012) 3 European Yearbook of International Economic Law 89-123 (with Mitali Tyagi)
"Trade Liberalisation in Asia: why intra-Asian free trade agreements are not utilised by the business community" (2011) 6(1) Asian Journal of WTO & International Health Law and Policy 109-136
"The Untapped Potential of Investor-State Dispute Settlement involving Intellectual Property Rights and Expropriation in Free Trade Agreements" (2011) 15(3) Ewha Law Journal 1-24
"A Precautionary Approach to Decision Making: The Evolving Jurisprudence on Article 5.7 of the SPS Agreement" (2010) 2(2) Trade, Law and Development 195-223 (with Dianna Shao
"Reconceptualising the Debate on Intellectual Property Rights and Economic Development" (2010) 3(1) The Law and Development Review 65-107
"Treaty Interpretation in WTO Dispute Settlement: The Outstanding Question of the Legality of Local Working Requirements" (2010) 19(2) Minnesota Journal of International Law 275-326 (with Mitali Tyagi)
Book Chapters
"China, Intellectual Property and the WTO: Challenging but not a challenge to the existing legal order" in Colin Picker and Lisa Toohey (eds) China in the International Economic Order: New Directions And Changing Paradigms (Cambridge University Press, 2015) 293-318
 "The Anti-Counterfeiting Trade Agreement, Less Harmonization, Further Fragmentation" in CL Lim and Bryan Mercurio (eds) International Economic Law after the Global Crisis: A Tale of Fragmented Disciplines (Cambridge University Press, 2015) 406-426
"The Fragmented Disciplines of International Economic Law after the Global Financial and Economic Crisis: An Introduction" in CL Lim and Bryan Mercurio (eds) International Economic Law after the Global Crisis: A Tale of Fragmented Disciplines (Cambridge University Press, 2015) (with CL Lim) 1-30
"ACTA: Anatomy of a Failed Agreement" in Pedro Roffe (ed) The ACTA and the Plurilateral Enforcement Agenda: Genesis and Aftermath (Cambridge University Press, 2015) 329-337
 "Public health law – case study: plain packaging" in Sian Griffiths (ed) Routledge Handbook on Global Public Health in South/East Asia (Routledge, 2014) 512-521
"The Future of the WTO" in Andreas Kellerhals (ed) Bilateralismus im multilateralen Europa (Schulthess Verlag, 2014) 81-99
"After the Second Extension of the Transition Period for LDCs: How Can the WTO Gradually Integrate the Poorest Countries into TRIPS?" in Bryan Mercurio and Kuei-Jung Ni (eds) Science and Technology in International Economic Law: Balancing Competing Interests (Routledge, 2013) 260-290
"World Trade Organization", Chapter 10 of International Business Transactions in The Laws of Australia (Thomson Reuters, 2013) 1001-1065
"Trade Liberalization and Poverty Reduction: Complimentary or Contradictory Aims" in Krista Nadakavukaren Schefer (ed) Poverty and International Economic Law (Cambridge University Press, forthcoming 2013)
"TRIPs and Access to Essential Medicines" in Denise Prévost and Geert Van Calster (eds) Research Handbook on Environment, Health and the WTO (Edward Elgar, forthcoming 2013)
"Intellectual Property Rights, Trade and Economic Development" in YS Lee, Won-Mog Choi and Gary Horlick (eds) Law and Development Perspective on International Trade Law (Cambridge University Press, 2011) 49-80
"Bilateral and Regional Trade Agreements in Asia: A Sceptic's View" in Ross Buckley, Richard Hu and Douglas Arner (eds), The Economic and Financial Integration of East Asia (Edward Elgar, 2011) 121-149
Representative Publications, 2004-2009
International Business Law (Oxford University Press, 2009) (with Meredith Kolsky Lewis, Leon Trakman and Bruno Zeller)
Bilateral and Regional Trade Agreements: Commentary and Analysis (Cambridge University Press, 2009)(edited with Simon Lester)
"Is China a 'Currency Manipulator'?: The legitimacy of China's exchange regime under the current international legal framework" (2009) 43(3) International Lawyer 1257-1300 (with Celine Sze Ning Leung)
 "Why Compensation Cannot Replace Trade Retaliation in the WTO Dispute Settlement Understanding" (2009) 8(2) World Trade Review 315-338
"Health in the Developing World: the case for a new international funding and support agency" (2009) 4(1) Asian Journal of WTO & International Health Law and Policy 27-64
"The Politics and Law of Prisoner Disenfranchisement in Australian Federal Elections' in Alec Ewald and Brandon Rottinghaus (eds) Democracy and Punishment: International Perspectives on Criminal Disenfranchisement (Cambridge University Press, 2009) (with Ronni Redman and David Brown) 167-204
"Growth and Development: Economic and Legal Conditions' (2007) 30 UNSW Law Journal 437-476
"The WTO and its Institutional Impediments' (2007) 8(1) Melbourne Journal of International Law 198-232
"Resolving the Public Health Crisis in the Developing World: Problems and Barriers of Access to Essential Medicines' (2007) Northwestern Journal of International Human Rights 1-40
"TRIPS-Plus Provisions in Regional Trade Agreements' in Lorand Bartels and Federico Ortino (eds) Regional Trade Agreements and the WTO Legal System (OUP, 2006) 215-238.
WTO Dispute Settlement Understanding: A Detailed Interpretation (Kluwer Law International, 2005) (with Yang Guohua and Li Yongjie)
"Expanding Democracy: Why Australia should negotiate for open and transparent dispute settlement in its FTAs' (2005) 6(2) Melbourne Journal of International Law 485-515 (with Rebecca LaForgia)
"Electoral Law: Free and Fair?' (2004) 32 Federal Law Review 365-395 (with George Williams)
"TRIPs, Patents and Access to Life-Saving Drugs in the Developing World' (2004) 8 Marquette Intellectual Property Law Review 211-253
 "Improving Dispute Settlement in the WTO: The DSU Review – Making It Work?' (2004) 38 Journal of World Trade 795-854