Law & Technology at CUHK LAW
Technology has developed at a breathtaking speed over the past decade. As a result legal work has changed dramatically. Recognizing these changes CUHK LAW has introduced courses on legal technologies for its undergraduate and postgraduate students accompanied by cutting edge research conducted by faculty members.
Watch the videos here to learn more from our professors, students and alumni how technology is changing the legal world and what this means for legal education and skills training, research as well as practical work.
CUHK LAW Dean Professor Lutz-Christian WOLFF was featured in CUHKUPdates.
Professor Wolff elucidates his values and beliefs in law teaching with six items, including a book collection of German laws, a spoon, red socks, a paper-wrapped parcel and herding sheep. These and other stories are collated in his new book "The Art of Law Teaching", which he has dedicated to all of his students.
Read the feature article here: English / Chinese
Learn more about the book here.
On 14-16 January 2021, the CUHK LAW Centre for Financial Regulation and Economic Development (CFRED) held its second Machine Lawyering conference titled "Human Sovereignty and Machine Efficiency in the Law".
This year the fully remote conference presented more than 50 papers from Asia, Australia, Europe and North America on FinTech, LegalTech, data protection, and ethics with five keynote presentations focusd on ethical and regulatory concerns arising in connection with financial and legal technology. 
Watch the keynote presentation videos on the conference website.
Read other presented papers on the 'Machine Lawyering' blog.
CUHK LAW organized the online Scholarships and Prizes Presentation Ceremony 2021 on 31
 March to present 96 scholarships and prizes to its academically outstanding students and graduates. Over 160
participants attended the Ceremony including Donors representatives, students, graduates, families and friends of the recipients.
CUHK LAW also took the opportunity to thank the scholarship and prize donors for their continued support.
View the ceremony video and booklet

 
here
. 
The 6th  Year Greater China Legal History Seminar Series hosted six very successful online seminars with over 2,100 registrations. Topics discussed in this series included "Feeding the Emperor – Administrative Law in Tang Dynasty China", "Carl Schmitt and the Development of Conservative State Theory in China", "The History of Hong Kong's Tax Law System", "Toppling Statues and Changing Names – Does the Law Protect Embarrassing or Awkward Heritage in Hong Kong?", "The History of Central Banking in Hong Kong, Mainland China and Singapore", and "From Waqf, Ancestor Worship to the Rise of the Global Trust: A History of the Use of the Trust as a Vehicle for Wealth Transfer in Singapore". 
Watch all seminar recaps on the CUHK LAW website or on YouTube.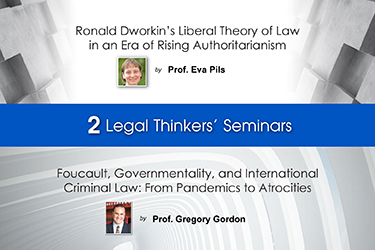 On 28 January 2021, Professor Eva PILS from King's College London delivered an online Legal Thinkers' Seminar on "Ronald Dworkin's Liberal Theory of Law in an Era of Rising Authoritarianism". The seminar introduced the liberal legal theory of the late legal philosopher Ronald Dworkin and identified lessons from his theory for an age shaped by globalization and the rise of authoritarianism.
On 11 March 2021, CUHK LAW Professor Gregory GORDON spoke on "Foucault, Governmentality, and International Criminal Law: From Pandemics to Atrocities". The seminar took issue with the Foucauldian interpretation of international criminal law.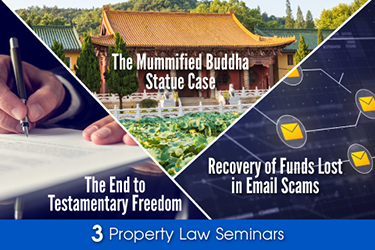 CUHK LAW organized three online Property Law Seminars from January 2021.
The seminar "The End to Testamentary Freedom" by Dr. Richard HEDLUND from Lincoln Law School on 13 January examined parliamentary proceedings in the UK Parliament from 1928 and 1938 that led to the enactment of the Inheritance (Family Provision) Act 1938.
The seminar "The Mummified Buddha Statue Case – Legal Issues Surrounding Cultural Heritage" by Mr. Laurens KASTELEIJN, founder of Art Law Services, on 3 February discussed general rules for the return of cultural heritage, the conflicts between international and domestic law, and the current climate in which claims are made. 
The seminar 'Recovery of Funds Lost in Email Scams – "True" Constructive Trusts?' by Professor Lusina HO from The University of Hong Kong on 10 March examined recent conflicting decisions in the lower courts in Hong Kong that have considered some of these issues and the observation of Lord Sumption NPJ in Xiamen Xinjingdi v Eton Properties [2020] HKCFA 32 [174] about the nature of the constructive trust. 
The Cross-Border Legal Issues Dialogue Seminar Series provides a forum for practitioners, academics, the business community and the general public to engage in a dialogue on various issues arising from cross-border legal transactions.
On 21 January 2021, Dr. João RIBEIRO-BIDAOUI from the Hague Conference on Private International Law (HCCH) spoke on "HCCH 2005 Choice of Court Convention: Enhancing Access to Justice for Businesses across Borders". The online seminar addressed the essential role of the HCCH in transactional commercial litigation. It focused on the Choice of Court Convention and its potential to be a 'game changer' in settling cross-border commercial disputes. 
On 25 March 2021, Professor Yun ZHAO from The University of Hong Kong delivered another online seminar on "Latest Development of Hague Conference on Private International Law and the Hague Judgments Convention". The seminar examined the latest development of the HCCH and introduced the new Convention on the Recognition and Enforcement of Foreign Judgements in Civil or Commercial Matters in 2019. 
Watch the seminar recaps here.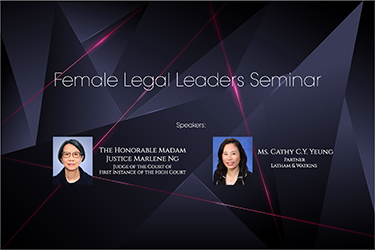 The third CUHK LAW Female Legal Leaders Seminar was delivered online by The Honorable Madam Justice Marlene NG, Judge of the Court of First Instance of the High Court, and Ms. Cathy C.Y. YEUNG, Partner of Latham & Watkins on 4 February 2021. The event was attended by over 100 participants including students, alumni, academics and practitioners from Hong Kong and overseas.
At the seminar chaired by CUHK LAW Professor Jingyi WANG, the speakers shared their career journeys across different regions and professions. They talked about the ways to strike a balance between work and personal life and advised young lawyers to have a long-term vision, to believe in their own abilities and to embrace all opportunities.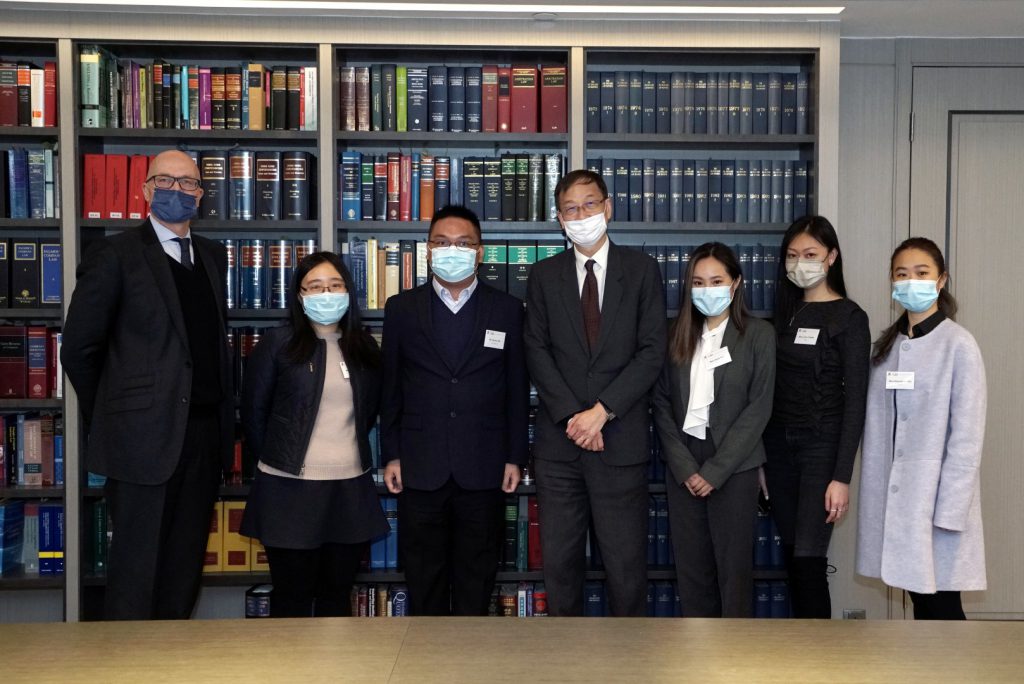 On 11 January 2021, Mr. Benjamin YU, SC delivered an online Public Seminar on "Judicial Review in Planning Law in Hong Kong".
The seminar focused on how Hong Kong Courts apply public law principles and the Basic Law to ensure that planning in Hong Kong is carried out in accordance with the law, both substantively and procedurally. 
More than 420 participants attended this seminar. 

Legal Practice and Technology (PCLL elective) – The course explains how technology supports legal practice. It creates students' awareness of the need to design technology solutions to increase the efficiency of legal work. It also enables students to appreciate the legal implications of common digital technology they face when they enter the legal profession as a trainee solicitor or pupil barrister.
Chinese Law and Society in an Age of Digital Technologies and Artificial Intelligence (LLM elective) – The course

focuses on the relationship between technology and Chinese law. Designed as an interdisciplinary course covering technology, sociology, law and ethics, the course discusses jurisdiction specific aspects arising in

China

.
Conflicts in International Commercial Litigation (LLM elective) – The course

teaches the conflict of laws (private international law) issues faced by lawyers in advising on international commercial court cases

.

With Hong Kong being one of the top international dispute resolution centers in the world, knowledge of this aspect of conflict of laws is essential for any future lawyer aspiring to practise in commercial litigation. 

Insolvency Law (LLB elective) – The course provides an overview of the different areas of corporate and personal insolvency work with an emphasis on the practical challenges encountered by insolvency professionals, including cross-border recognition and recovery issues. It prepares students who may be interested in obtaining the specialist qualification in insolvency, a professional qualification that is well-recognized by insolvency practitioners in Hong Kong.

Colonial Governance, the Rule of Law, and the Development of Contemporary Legal Orders (LLB elective) – The course provides students with a greater understanding of the connections between law, empire, European colonization and the formation of contemporary states. It adopts a broad historical approach to these subjects, beginning with some theoretical investigations before turning to consider how law and the state have evolved in several different key contexts. In addition to its substantive content, the course aims to introduce students to the study of legal history and law and society broadly, opening up the range of perspectives from which students may consider legal issues and the place and role of law in the contemporary world.
International Economic Law and the Legal Profession (LLM elective) – The course aims to increase students' knowledge about the international legal profession, focusing in particular on the law and practice of adjudicatory bodies operating in the field of International Economic Law. It seeks to develop the analytical and critical skills of students by detailed examination of the relevant conventions, statutes, rules of conduct and cases. In addition, the course discusses key questions of professional ethical conduct and investigates developing trends in the international legal market. Beyond that, the course aims to encourage students to consider the role of different legal professionals in the settlement of international disputes and expand their knowledge about how the international legal market operates in real life.
Professor Eliza MIK joins as Assistant Professor. She has worked in multiple software companies, tech start-ups and telecommunication providers in Australia, Malaysia, Poland and the United Arab Emirates advising on e-commerce, payment systems, software licensing and technology procurement. Since joining academia, her consistent focus has been on the legal implications of transaction automation, including Blockchain and Artificial Intelligence, as well as broader issues surrounding the Digital Economy and the proliferation of ubiquitous computing in retail environments. Maintaining a practical, commerce-oriented approach, Eliza has published in prominent journals in the areas of contract, e-commerce and cyberlaw. Her current research centers on smart contracts.
Professor Normann WITZLEB joins as Associate Professor. He has published widely in the areas of privacy and data protection law, the law of torts and remedies, as well as comparative law. He is also an Adjunct Associate Professor of Law at Monash University Australia and consulted with the Australian Attorney-General's Department and the Office of the Australian Information Commissioner on privacy law reform projects. He is admitted to practice in the Australian Capital Territory, a barrister of the High Court of Australia and a fully qualified German lawyer.
This newsletter features five CUHK LAW alumni who share their latest career/professional developments and news.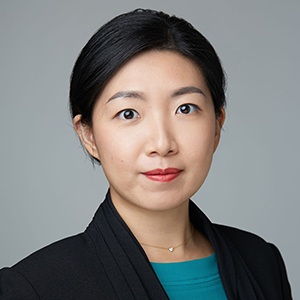 Wency YU | Beijing
(JD 2008)
"I joined Broad & Bright as a partner in December 2020. I have 11+ years of experience in intellectual property matters, with particular emphasis on trademark, copyright, domain name, design, and anti-unfair competition cases. I have handled thousands of China IP cases, including both litigation and non-contentious matters. I am qualified in China and New York, and I was ranked in WTR 1000 as a leading trademark professional in China in 2020.
I studied the CUHK LAW JD programme from 2006 to 2008. Thanks to CUHK's wide range of elective courses, I studied both common law and Chinese law, which laid a solid foundation for my legal career. After graduation, I worked at Baker & McKenzie's Beijing office as an IP associate from 2008 to 2016, and at LexField as a partner from 2018 to 2020. I also earned an LLM degree from Stanford Law School in 2018.
I am very excited to start a new chapter at Broad & Bright. I trust that the firm is a great platform for my career as it is widely known for its high quality of service to foreign companies (especially for companies in the US, EU and Japan) in China, and for Chinese companies' outbound matters. I strive to build a strong IP practice with my amazing colleagues, and to provide top quality service to clients taking advantage of my trilingual abilities (Chinese, English and Japanese)."
"The COVID-19 pandemic brought immediate and far-reaching changes to the way business is done around the world. As the public health emergency brought in-person events to a halt, companies intensified efforts to engage with clients and other audiences online. At the same time, there was quantum leap in both usage and comfort levels with platforms such as Zoom and Google Meet, across demographics.
My law firm, Harris Bricken, has always been at the forefront of technological adaptation, both in the context of our client work and our outreach. Due to this, we were well placed to make the most of the new normal. Together with an increased number of webinars and media appearances by our attorneys, we also started a new podcast, mindful of the growing popularity of the medium.
As an avid fan of podcasts, I understood their potential and eagerly volunteered to participate in the project, together with my co-host Jonathan Bench (who lived in Hong Kong and is fluent in Cantonese) and our producer Madeline Williams. This is how the Global Law and Business Podcast was born in April 2020. Since then, we have produced 44 episodes and are looking forward to our one-year anniversary. According to Feedspot, we are one of the top ten podcasts on international law.
As much as I love working with Jonathan and Madeline (as well as our intern Michaela Moore, who has been helping us out over the past few months), they would all agree it is our guests' voices that really count. The podcast has allowed us to amplify voices from around the world, many of which might not be heard otherwise. Some of these are thought-provoking, some convey moral urgency: All have something interesting to say.
I am very proud of the fact that CUHK alums are well represented on our guest list. Last June, we discussed events in Hong Kong with Erik Mitbrodt, a Canadian attorney and CUHK LAW graduate. Then in August we had Nigerian attorney and PhD candidate Ebele Onyeabo on to discuss the oil and gas industry. A few months later, we talked about Black Lives Matter and other issues with my LLM classmate and South Carolina lawyer Mark McLawhorn. Most recently, another classmate, Nadia Lazareva shared her thoughts on working at HSBC.
If you would like to hear what these fellow Phoenixes have to say, or if you are curious as to who else has been a guest, check out the Global Law and Business Podcast on Spotify, Apple Podcast, Google Play, Stitcher, or Soundcloud!"
Frederic ROCAFORT
United States
(CBL LLM 2012)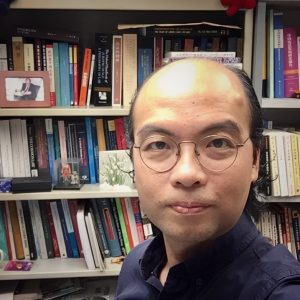 Simon T N NG | Hong Kong
(PhD 2017)
"I am very honoured to have joined the Editorial Executive of the new International Journal of Disability and Social Justice and taken up the role as Book Reviews Editor.
The Journal is an international and interdisciplinary journal in the field of Disability Studies using new model of publishing and with an open-access Digest. We publish articles concerned with challenging injustices in relation to disability, and with building inclusive societies. It is envisaged that contributions will draw upon ideas developed in broad areas such as law, human rights, sociology, political science, social and public policy, philosophy/ ethics/ theology, social work, health and psy-sciences, inclusive education, management/ business studies, inclusive design, critical studies, etc. The Journal is also committed to accessibility (an example being the easy-read introduction available on its website) and collegiality (such as the early-stage feedback option which early career researchers will find particularly helpful).
There is a global Editorial Board and Editorial Executive composed of highly distinguished researchers from more than 20 countries. They include some drafters of UN Convention on the Rights of Persons with Disabilities (CRPD) and leading figures in the field – among them is Professor Gerard Quinn (Leeds/ Lund), the newly appointed UN Special Rapporteur on the rights of persons with disabilities. Some of them have been long-time friends of Hong Kong and have been extremely supportive of the disability rights workshops I organised at my affiliated institution, HKU/ SPACE, in 2015, 2016 and 2018. I am happy that our collaboration is now brought to a new level.
Sending reminders is never the major work focus of an editor. I wish to make the book review section a worthy part of the Journal that helps promote reading of serious works, exchanges of ideas and cross-disciplinary dialogues."
From one of our alumni couple who have started their own family, Winifred HO (PCLL 2010) and Howard CHUNG (JD 2009, PCLL 2010) introduce us to Alessia Hosanna Chung, who turns two this year!
Wini and Howard send their greetings: "We are very grateful to CUHK, especially the Law Faculty, and wish everyone all the best."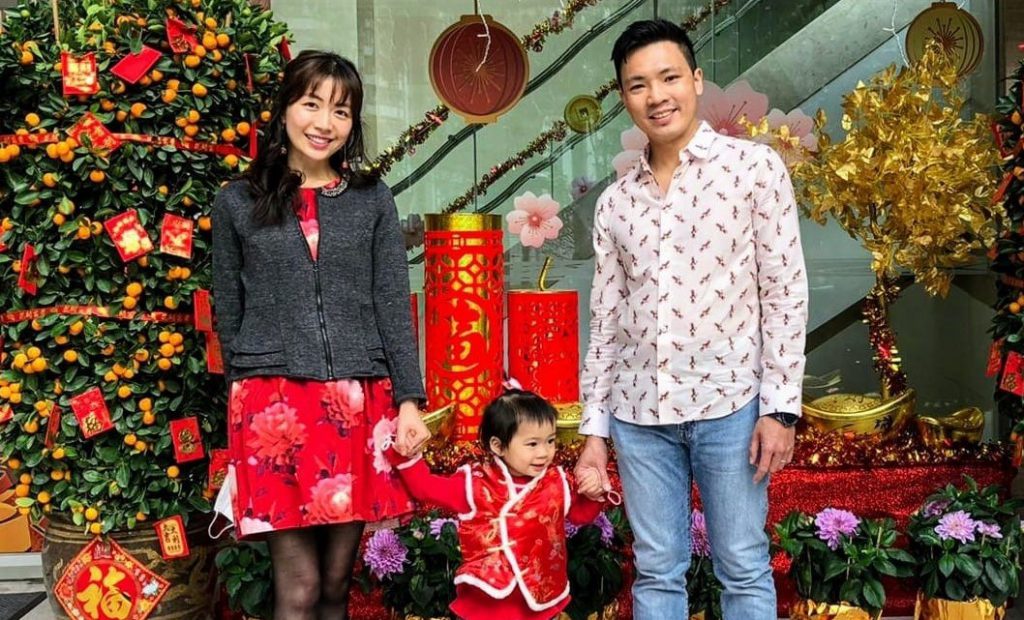 Share with us any updates (e.g. life stories, good news, career achievements, etc.) by email to law.alumni@cuhk.edu.hk.
On 24 March 2021, 80 participants attended the CUHK LAW Alumni Online Seminar 'AI and Finance Law' delivered by Mr. Danny KAN, Chief Counsel, Listing & Compliance cum Joint Company Secretary of Ping An Group. At the seminar, Mr. Kan introduced the basic of artificial intelligence (AI) and its application in the financial industry to areas such as AML, KYC and cybersecurity. The seminar also examined legal and regulatory issues arising from AI, and how Hong Kong regulators are responding to these. 
The CUHK LAW e-Newsletter features important Faculty news and events. Colleagues, students, and friends are welcome to share it with anyone who might be interested. Enquiries, suggestions, or comments are welcome and can be sent to law@cuhk.edu.hk.
Copyright © 2021 Faculty of Law, The Chinese University of Hong Kong
If you would like to unsubscribe from our mailing list, please click here.