PEOPLE
ACADEMIC STAFF
Prof. Rehan ABEYRATNE
Assistant Professor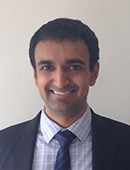 Tel
(852) 3943 9972
Fax
(852) 2994 2505
Email
rabeyratne@cuhk.edu.hk
Office

Room 633,
Faculty of Law,
6/F, Lee Shau Kee Building,
The Chinese University of Hong Kong
Sha Tin, NT, Hong Kong SAR

Rehan Abeyratne is an Assistant Professor of Law at The Chinese University of Hong Kong. His main research and teaching interests include comparative constitutional law, human rights, and public international law. His published works have appeared or are forthcoming in the International Journal of Constitutional Law (ICON), Asian Journal of Comparative Law, Nebraska Law Review, Yale Journal of International Law, Brooklyn Journal of International Law and George Washington International Law Review, as well as in edited volumes published by Hart, Cambridge University Press and Oxford University Press.
Prior to joining CUHK, Professor Abeyratne was a Scholar in Residence at the Center for Human Rights and Global Justice at New York University (NYU) School of Law. He has also held visiting positions at Melbourne Law School and the National University of Singapore (NUS) Faculty of Law.
From 2011-16, Professor Abeyratne was an Associate Professor of Law at the Jindal Global Law School in Delhi, India. At Jindal, he also served as Assistant Dean (Research) and as Executive Director of the Centre for Public Interest Law.  He received the Jindal Teaching Excellence Award in 2014, and the Research Excellence Award three times (2012-14).
Education
J.D. (Harvard Law School)
B.A. (Brown University)

Admitted to New York State Bar
Comparative Constitutional Law
South Asian Constitutionalism
Judicial Independence
Socioeconomic Rights
Representative Publications
Journal Articles
Uncertain Sovereignty: Ceylon as a Dominion 1948-72, INTERNATIONAL JOURNAL OF CONSTITUTIONAL LAW (ICON) (forthcoming 2019).
Ordinary Wrongs as Constitutional Rights: The Public Law Model of Torts in South Asia, TEXAS INTERNATIONAL LAW JOURNAL (forthcoming 2019).
Separation of Powers and the Potential for Constitutional Dialogue in India, JOURNAL OF INTERNATIONAL AND COMPARATIVE LAW (with Didon Misri) (forthcoming 2018).
Privileging the Powerful: Religion and Constitutional Law in India, ASIAN JOURNAL OF COMPARATIVE LAW (forthcoming 2018).
Giving Structure to the Basic Structure Doctrine, 1(2) INDIAN LAW REVIEW 182 (2017).
Upholding Judicial Supremacy in India: The NJAC Judgment in Comparative Perspective, 49 GEORGE WASHINGTON INTERNATIONAL LAW REVIEW 569 (2017).
Al Maqaleh and the Diminishing Reach of Habeas Corpus, 95 NEBRASKA LAW REVIEW 146 (2016).
Rethinking Judicial Independence in India and Sri Lanka, 10 ASIAN JOURNAL OF COMPARATIVE LAW 99 (2015).
Insular and Inconsistent: India's Naz Foundation Judgment in Comparative Perspective, 39 YALE JOURNAL OF INTERNATIONAL LAW ONLINE 74 (2014) (with Nilesh Sinha).
Socioeconomic Rights in the Indian Constitution: Toward a Broader Conception of Legitimacy, 39 BROOKLYN JOURNAL OF INTERNATIONAL LAW 1 (2014).
Domestic Violence Legislation in India: The Pitfalls of a Human Rights Approach to Gender Equality, 21 AMERICAN UNIVERSITY JOURNAL OF GENDER, SOCIAL POLICY & THE LAW 333 (2013) (with Dipika Jain).
Superior Responsibility and the Principle of Legality at the ECCC, 44 GEORGE WASHINGTON INTERNATIONAL LAW REVIEW 39 (2012).
Book Chapters
Judicial Appointments in Sri Lanka: A Politicized Trajectory, in THE MOST POWERFUL COURT IN THE WORLD: APPOINTMENT OF JUDGES TO THE SUPREME COURT OF INDIA (Arghya Sengupta and Ritwika Sharma eds., Oxford University Press, 2018).
Socioeconomic Rights, Human Dignity, and Constitutional Legitimacy in India, in HUMAN DIGNITY IN CONTEXT (Dieter Grimm, Alexandra Kemmerer, and Christoph Mollers eds., Nomos/Hart, 2018).
Judicial Independence and the Rise of the Supreme Court in India, in ASIA-PACIFIC JUDICIARIES: INDEPENDENCE, IMPARTIALITY AND INTEGRITY (H.P. Lee and Marilyn Pittard eds., Cambridge University Press, 2017).
Asia as the Laboratory of the Superior Responsibility Doctrine, in TRIALS FOR INTERNATIONAL CRIMES IN ASIA (Kirsten Sellars ed., Cambridge University Press, 2015).
Centralising Authority: Executive Power in India and Sri Lanka, in REFORMING SRI LANKAN PRESIDENTIALISM: PROVENANCE, PROBLEMS AND PROSPECTS (Asanga Welikala ed., Centre for Policy Alternatives, 2015).
How to Produce a More Effective Memorial or Written Submission, in MOOT COURTS & MOOTING (Abhinandan Malik ed., Eastern Book Company, 2015).
Select Conferences and Presentations
Uncertain Sovereignty in Dominion Ceylon
International Society of Public Law (ICON-S) Annual Conference (University of Copenhagen, July 6, 2017)
Seeking to Preserve Both Democratic and Constitutional Legitimacy in Socioeconomic Rights Adjudication
14th Asian Law Institute (ASLI) Conference (University of the Philippines, May 19, 2017)
Centre for Comparative Constitutional Studies Seminar (Melbourne Law School, Apr. 4, 2017)
Scholar in Residence Research Forum (NYU School of Law, Nov. 10, 2016)
Judicial Review in Transformative Constitutions
Advanced Perspectives on Comparative Constitutional Law Seminar (University of Trento Faculty of Law, Sept. 19, 2016)
Socioeconomic Rights in India: Origins, Development, and Concerns Going Forward
Centre for Asian Legal Studies (CALS) Seminar (National University of Singapore, May 25, 2016)
Visiting Scholars Research Forum (NYU School of Law, April 5, 2016)
Upholding Judicial Supremacy in India: The NJAC Judgment in Comparative Perspective
American Society of Comparative Law, Younger Comparativists Committee Conference (Tulane Law School, March 19, 2016)
Rethinking Judicial Independence in India and Sri Lanka
American Society of Comparative Law, Younger Comparativists Committee Conference (Florida State University, April 17, 2015)
Contrasting Neighbors: Judicial Independence in India and Sri Lanka
CALS Young Scholars Workshop (NUS Faculty of Law, December 5, 2013)
Superior Responsibility in Asia: The Evolution of the Doctrine
Trials for International Crimes in Asia Conference (NUS Faculty of Law, October 18, 2013)
Socioeconomic Rights, Human Dignity, and Constitutional Legitimacy in India
Conference on The Concept of Human Dignity in Comparative Perspective (Wissenschaftskolleg zu Berlin,
June 20, 2013)
The Unintended Consequences of Domestic Violence Laws
Domesticating International Law Symposium (American University Washington College of Law, April 17, 2012)