PEOPLE
ACADEMIC STAFF
Prof. Stuart HARGREAVES
Associate Professor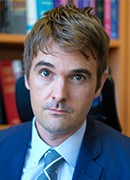 Prof. Hargreaves joined the Faculty in 2013 following the completion of his doctorate in law at the University of Toronto, where his thesis considered the privacy and legal implications new mapping technologies that record public space for commercial purposes. It was supported by a major grant from the Canadian Social Sciences and Humanities Research Council. Prof. Hargreaves also holds a BCL from Oxford University, where his dissertation considered the interaction between proposed privacy standards in APEC and EU laws regulating the outward flow of personal data to non-European states. He also holds a JD from Osgoode Hall Law School and a BA in politics & sociology from McGill University.
Prior to joining CUHK, Prof. Hargreaves taught at Osgoode Hall Law School, worked as a policy advisor to the Canadian Internet Policy & Public Interest Clinic, and practiced law for the Ontario Ministry of the Attorney General in the constitutional law & policy branch. His areas of research and teaching reflect this background, with a dual focus on information & privacy law and constitutional law & legal theory. He welcomes discussions with LLB or JD students who are interested in writing independent research papers on those topics; prospective PhD students should, however, follow the established application procedures rather than contacting him directly with a proposal.
Prof. Hargreaves was Director of the LLB & Assistant Dean for Undergraduate Studies from 2015-2019, and won the Faculty's Teaching Excellence award in 2017. He is external reviewer for a number of academic journals, a judge for the Undergraduate Awards (law category), an examiner for the overseas PCLL Conversion Examination, and sits on the Board of Advisors of Teach for Hong Kong.
Education
Accreditations
Associations
Publications
"Grinding down the edges of the free expression right in Hong Kong" [2019] 44(2) Brooklyn Journal of International Law 671.
"APEC Cross-Border Privacy Rules System", in Privacy Rights in the Digital Age, 2nd ed., C. Anglim, ed. (New York: Grey House Publishing, Inc., 2019).
"Who Decides What is 'Personal Data'? Utilizing the Access Principle with Telecommunications and Internet Providers in Hong Kong" (with L. Tsui), [2019] 13 International Journal of Communication 1684.
The Hong Kong Basic Law Handbook, 2nd edition (with M. Ramsden) (Hong Kong: Sweet & Maxwell Ltd, 2019) (available for purchase here).
"I'm a Creep, I'm a Weirdo: Street Photography in the Service of the Male Gaze", in Surveillance, Privacy, and Public Space, Bryce Clayton Newell, Tjerk Timan, and Bert-Jaap Koops, eds. (Abingdon, UK: Routledge, 2018).
"IP Addresses as Personal Data Under Hong Kong's Privacy Law: An Introduction to the Access My Info HK Project" (with L. Tsui), [2017] 25(2) Journal of Law, Information, & Science.
"Online Monitoring of 'Localists' in Hong Kong: A Return to Political Policing?", [2017] 15(3/4) Surveillance & Society 425.
"'Relational Privacy' & Tort", [2017] 23(3) William & Mary Journal of Women & the Law 433.
"The Trouble with Using Search Engines as the Primary Vector of the Right to Be Forgotten", [2016] 19 Pandora's Box 83.
"Data Protection Regimes", in Privacy Rights in the Digital Age, C. Anglim, ed. (New York: Grey House Publishing, Inc., 2016).
The Hong Kong Basic Law Handbook (with M. Ramsden) (Hong Kong: Sweet & Maxwell Ltd, 2015).
"From the 'Fragrant Harbour' to 'Occupy Central': Rule of Law Discourse & Hong Kong's Democratic Development", [2015] 9(3) Journal of Parliamentary & Political Law 519.
"'Jones-ing' for a Solution: Commercial Street Surveillance & Privacy Torts in Canada", [2014] 3(3) Laws 388.
"R. v. Gomboc & the Proper Role of the 'Biographic Core' under Section 8", [2012] 59(1) Criminal Law Quarterly 74.
"Inadequate: the APEC Privacy Framework & Article 25 of the EU Data Protection Directive", [2010] 8 Can. J. Law & Tech. 1.
"Of Rights & Review: The American, Kelsen, & 'New Commonwealth' Models", [2006] 1 Can. Stud. L. Rev. 1.
Conferences & Presentations
"State Exploitation of Gaps in Hong Kong's Data Protection Regime", University of Leeds School of Law (Leeds, 18 Sept. 2018).
"Grinding Down the Edge of the Speech Right", Law & Society Association (Toronto, 7-9 June 2018).
"Surveillance, Protest, & the Exercise of Constitutional Rights", Privacy, Personality and Flows of Information - UN Special Rapporteur on the Right to Privacy (Hong Kong, 29-30 Sept. 2017).
Panel Chair – "Transparency & Openness", Asian Privacy Scholars Network 6th Annual Conference (Hong Kong, 27 Sept. 2017).
Panel Chair – "Challenges to Liberal-Democratic Constitutionalism", Constitutionalism in Context, HKU Faculty of Law (Hong Kong, 11-12 Jun. 2017).
Discussant – Platform Law: Public & Private Regulation of Online Platforms, 21st Annual BCLT/BTLJ Symposium, Berkeley Center for Law & Technology (Berkeley, CA, 21-22 Apr. 2017).
"Access My Info Hong Kong: A Preliminary Report", Asian Privacy Scholars Network 5th International Conference: Global Privacy Standards – Evolution, Divergence, & Surveillance (Auckland, 13-14 Dec 2016).
Discussant – "Artificial Intelligence in Asia", Digital Asia Hub Conference (Hong Kong, 21 Nov 2016)
"From Colony to SAR: Rule of Law Discourse in Hong Kong's Democratic Development", Law & Society Association (New Orleans, 2-5 Jun 2016).
Panelist – E-commerce & Digital Law, The TPP: A Paradigm Shift in International Trade Regulation (Annual AWRN Conference) (Hong Kong, 17 May 2016)
Panelist – Democracy & Constitutional Law, Hong Kong Law Research Postgraduate Symposium (Hong Kong, 9 April 2016)
"The (D)evolution of Rule of Law Discourse in Hong Kong", Joint CUHK, HKU, & CityU Conference on the Magna Carta & the Rule of Law in Hong Kong (Hong Kong, 31 Oct. 2015).
"The Risks of the Right to be Forgotten", Symposium on Privacy in Greater China (Hong Kong, 28 Nov. 2014).
"Gendered Surveillance & the Digital Replication of the Male Gaze", XVIII ISA World Congress of Sociology (Yokohama, 13-19 Jul. 2014).
"The Unequal Gaze of Commercial Street Surveillance", Joint HKU-Ottawa Conference on Technology, Law, & the Public Interest (Hong Kong, 10-11 Apr. 2014).
"The Eastmond Test & the Normative Underpinnings of PIPEDA", Canadian Business Ethics Research Network Annual Conference (Calgary, 8-12 May, 2012).
"Social Media & Privacy Law", Federation of Asian-Canadian Lawyers Fall Conference 2011 (Toronto, 12 Nov. 2011).
"Online Social Networking & the Limits of Data Protection Law", McGill RIPP (Rethinking Intellectual Property Policy) Conference (Montreal, 7 Oct. 7 2009).
Media
Selected Grants & Fellowships
Teaching Excellence Award (CUHK)
Direct Grant for Research (CUHK)
Joseph-Armand Bombardier Canada Graduate Scholarship
Google Policy Fellowship
Centre for Innovation Law & Policy Fellowship (University of Toronto)
Entrance Scholarship (Oxford University)
Osler, Hoskin, & Harcourt LLP Labour Law Award
International Mobility Award (York University)
Alexander David McKenzie Scholarship (York University)
Alumni Association Award (Hong Kong University)